Press release
Aircraft carrying UK aid on their way to help Iraqis
RAF Hercules C130s are getting desperately needed aid to Iraq.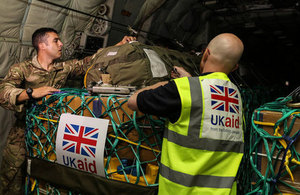 International Development Secretary Justine Greening said:
Two RAF C130s are now getting desperately needed aid to those caught up in the violence in Iraq. This means help from Britain will reach thousands of people trapped on Mount Sinjar.

These lifesaving supplies include reusable containers filled with clean water for 2,400 families along with 500 solar lanterns that can also be used to recharge mobile phones.
A full set of images is available here.
General media queries
Follow the DFID Media office on Twitter - @DFID_Press
Related news stories
Published 9 August 2014