Airborne supply experts train for rapid reaction role
The supply and maintenance support provided to the British Army's Rapid Reaction Force has been put to the test on Exercise Active Chariot
The role of Colchester-based 13 Air Assault Support Regiment Royal Logistic Corps (13 AA Sp Regt RLC) is to supply ammunition, food, fuel and spare parts to 16 Air Assault Brigade's Air Assault Task Force (AATF), which is ready to deploy anywhere in the world at short notice to do anything from disaster relief to war-fighting.
Training in Norfolk placed troops six weeks into an operation, with heavy equipment having arrived in support of an initial airborne assault. The former RAF base at Sculthorpe had been established as a logistics base to supply infantry operations 30 miles (48km) away, near Thetford, with supply depots, workshops and accommodation set up in derelict hangars.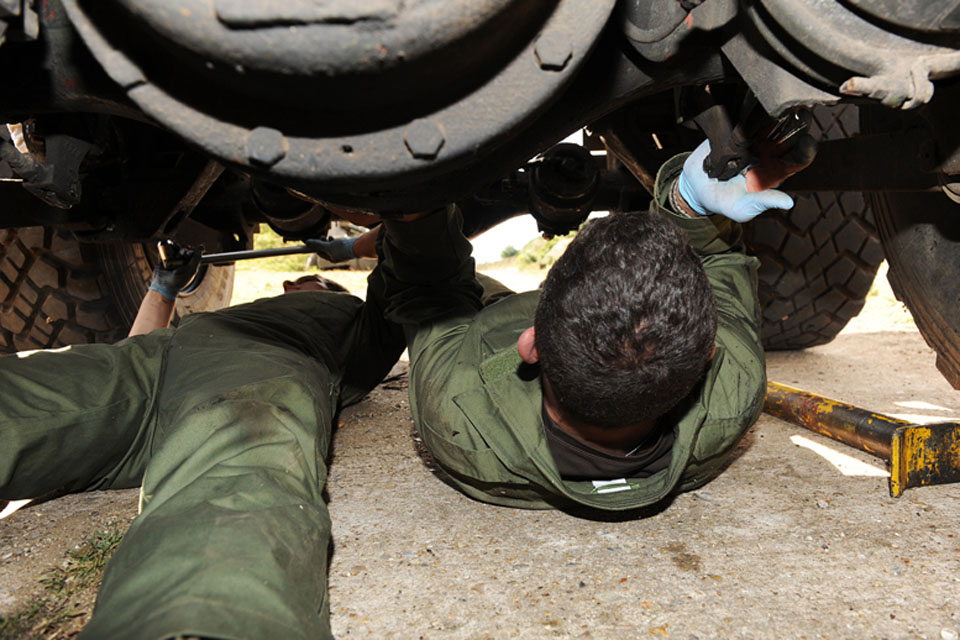 Major Alistair Hamilton said:
We can insert logistics troops and supplies by parachute during the early phases of an operation and build from there. As more troops and kit arrive it makes for more complex logistical challenges as the demand for supplies rises.
We've been practising how supplies get to us, such as airborne drops from Hercules transport aircraft, how we get supplies forward using helicopters and lorries, and how we run distribution points to give the supplies to the troops that need them.
Rigging vehicles to be carried under helicopters is a key skill that troops have practised.
Private Michael Lewis said:
Rigging is all about keeping a load balanced. We do a lot of classroom work to learn the principles and practise preparing different vehicles and loads, but there's nothing like doing it with a helicopter.
As well as their core logistic role the unit was tested with mock attacks on the base, including countering the threat of chemical, biological, radiological and nuclear (CBRN) weapons.
Major Hamilton said:
This has been good training to get all of our skills and drills right, but also to train the units we're supporting in what we do.
8 Field Company, 7 Air Assault Battalion Royal Electrical and Mechanical Engineers, which is responsible for maintaining the AATF's vehicles, weapons and electronic equipment, also operated from Sculthorpe.
The unit sent teams out to repair equipment in the field or bring it back to Sculthorpe for more complicated work.
Lance Corporal Tom Walker said:
We've been given some tough repairs to do without the spares and tools there are in barracks. Our soldiering has been tested too, with guard duty in CBRN kit a new experience for me.
The training was carried out in parallel with Exercise Active Eagle that tested the fieldcraft of 5th Battalion The Royal Regiment of Scotland, the AATF's main infantry unit.
Published 21 September 2012