Air Marshal Sir Stuart Peach appointed first Commander Joint Forces Command
Defence Secretary Dr Liam Fox made the announcement of the appointment today, 15 September 2011, which will see Air Marshal Peach take up post…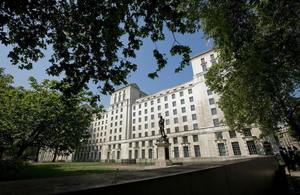 Defence Secretary Dr Liam Fox made the announcement of the appointment today, 15 September 2011, which will see Air Marshal Peach take up post in December 2011 on promotion to Air Chief Marshal.
As Commander JFC, Air Marshal Peach will have responsibility for commanding and generating the joint capabilities allocated to it and setting the framework for joint enablers that sit in the Single Services.
As part of the ongoing work being led by the Defence Reform Unit on the design of the JFC, an essential part of Air Marshal Peach's role will be to deliver the JFC to Initial Operating Capability, with a small headquarters in place by April 2012, and to establish it to Full Operating Capability by April 2013. He will be actively engaged in this work from now on.
The creation of the Joint Forces Command was a key recommendation in Lord Levene's Defence Reform Report, which was published in June as part of a wider package of radical reform.
Decisions on the initial composition of the JFC and location of the headquarters are expected in October.
The review of joint or potentially joint organisations and functions across the Services to identify options for rationalisation, the merit of further joint organisations, and which should transfer to the JFC and which should be delivered by a lead Service will be conducted through the autumn to inform decisions on the JFC Full Operating Capability in April 2013.
Air Marshal Peach said:
I am honoured and delighted by this appointment. The creation of the Joint Forces Command represents a tremendous opportunity for the UK Armed Forces to deliver effective capability for the challenges that lie ahead. I look forward to working for Defence to deliver, within my command, the very best from Her Majesty's Armed Forces.
Dr Fox said:
I have always been clear that I am determined to reform the way the MOD is run and bring it into the 21st century. The review carried out by Lord Levene set out a clear framework for a stronger Department through far-reaching reform. The creation of the Joint Forces Command is a key part of this reform and I am pleased to announce the appointment of Air Marshal Sir Stuart Peach as its commander.
Chief of the Defence Staff, General Sir David Richards, said:
Lord Levene's recommendations focused on strategic planning and operations, and the establishment of Joint Forces Command will align authority and responsibility. The JFC is a key part of this process by ensuring we continue to develop close working relationships between the three Services and I warmly welcome Air Marshal Peach as its commander.
Air Marshal Peach commissioned into the Royal Air Force in 1977 and flew Canberras in the photographic reconnaissance role prior to three successive tours on Tornado GR1 aircraft in the UK and Germany, qualifying as a weapons and electronic warfare instructor.
He commanded IX (Bomber) Squadron at RAF Bruggen in Germany from 1994 to 1996. Staff tours include Personal Staff Officer to the Deputy Commander and Commander-in-Chief in RAF Germany, Executive Officer to Commander Second Allied Tactical Air Force and Director Defence Studies Royal Air Force.
Operational service includes Belize, Hong Kong and Germany in the 1980s, Deputy Commander British Forces in Turkey (Op WARDEN), UK Head Military Coordination Centre Zakho (Iraq), Detachment Commander in Saudi Arabia (Op JURAL), Commander British Forces in Italy (Op ENGADINE), Air Commander (Forward) in HQ KFOR in Kosovo, and Deputy Senior British Military Adviser in US HQ Central Command from 2001 to 2002.
He commanded the Air Warfare Centre at RAF Waddington from 2000 to 2003, was Director General Intelligence Collection in the Ministry of Defence from 2003 to 2006, and Chief of Defence Intelligence and Deputy Chairman of the Joint Intelligence Committee from 2006 to 2009. He assumed his appointment as Chief of Joint Operations at Permanent Joint Headquarters (UK) in March 2009.
Published 15 September 2011