News story
Air chief praises progress during first Afghanistan visit
Air Chief Marshal Sir Andrew Pulford spent 2 days meeting personnel at Camp Bastion and Kandahar Airfield.
The Chief of the Air Staff (CAS), the head of the Royal Air Force, praised the armed forces during his visit which included meeting the Tornado detachment at 904 Expeditionary Air Wing in Kandahar, currently manned by the 'Dambusters', No 617 Squadron.
He also visited Task Force Helmand at Camp Bastion, the unit responsible for the UK's combat operations across Helmand province, as well as 903 Expeditionary Air Wing, which runs the camp's busy airfield.
During his visit he spoke about the UK's mission in 2014:
This year will be another year of hard work, another year of commitment, another year of being in harm's way; we will need to maintain our focus and effort right through to the end of combat operations.

I continue to be hugely impressed by the contribution being made by all elements of the Royal Air Force to Op Herrick, from the RAF Regiment providing vital force protection on the ground in Helmand to the Reaper and C-130 crews providing support to the ANSF (Afghan National Security Forces) and ISAF (International Security Assistance Force) across the whole of Afghanistan.
CAS was able to see the Royal Air Force's new Voyager transport aircraft, which has now started flying routinely into Afghanistan to support the airbridge to and from the UK.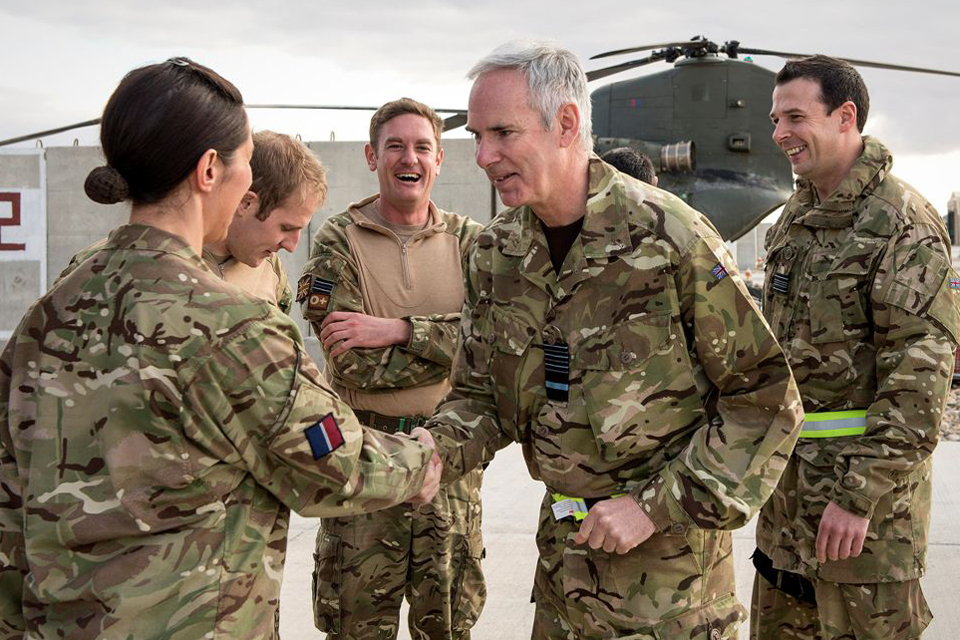 Voyager is a state-of-the-art passenger aircraft and air-to-air refueller with the reliability and capacity of a modern airliner.
During his visit to the Tornado detachment at 904 Expeditionary Air Wing in Kandahar, CAS met Royal Air Force personnel of all ranks.
He said:
The Tornado is the mainstay of the Royal Air Force's air combat force and has been a fundamental part of air operations across Afghanistan. It has provided close air support to both ANSF and ISAF alike since its first deployment to Afghanistan.
CAS also visited the Joint Aviation Group at Bastion, where pilots from all 3 services fly the UK's helicopters on operations in Afghanistan.
He said:
The Royal Navy's Commando Helicopter Force, the Apaches and Lynx of the Army Air Corps, and of course the Royal Air Force's Chinook and Merlin forces have committed themselves fully over many years in Afghanistan.

The Rotary Wing Force and the medical emergency response teams have day-in day-out provided life-saving care which has directly saved many hundreds of Afghan and ISAF lives.
Published 16 January 2014