News story
African Court of Human and People's Rights initiate proceedings against the Qadhafi regime
Foreign Secretary William Hague welcomed the publication by the African Court of Human and People's Rights of their decision against the Qadhafi regime.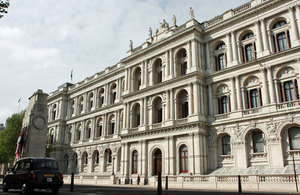 The Court initiated proceedings against the Qadhafi regime for 'serious and massive violations of human rights' on 3 March, and published its decision last week. Quoting the supporting statements by the UN Human Rights Council, the Arab League and the Peace and Security Council of the African Union, the Court ruled on 31 March that Qadhafi should cease all violent action in Libya and report to the Court in fifteen days on the measures taken to do so.
The Foreign Secretary said:
"This is the first ever ruling by the Court, which was set up by the African Union to take final and binding decisions on human rights violations among their member states. It is a strong and welcome statement from African statesmen that they will play their part in holding Qadhafi to account for his crimes against his own people."
At the launch of this year's Human Rights Report last week, the Foreign Secretary said:
"The Libyan people have suffered serious human rights abuses for decades. Their plight at the moment is worse than ever. They are facing regime forces that have used live rounds, indiscriminate shelling and air strikes against civilians, they have endured torture, extra-judicial executions, illegal arrests and detention, and they now face shortages of food, medicine and basic supplies.
Britain and its allies have intervened in Libya to save lives, to prevent a humanitarian catastrophe and to give the Libyan people a chance to determine their own future. It is action that is legal, necessary and right. We led the drive to refer Libya to the International Criminal Court and to suspend it from the UN Human Rights Council, so that those responsible for atrocities know that there will be a day of reckoning.
We are pressing for full and immediate access to Libya for ICC investigators and the Human Rights Council's Commission of Inquiry. The Qadhafi regime has lost all legitimacy, and today, I renew our calls for those remaining around him to abandon him and to unite in support of a better future of their country."
Published 5 April 2011