Afghanistan Parliamentary elections
Foreign Secretary William Hague makes a statement following a day of Parliamentary elections in Afghanistan.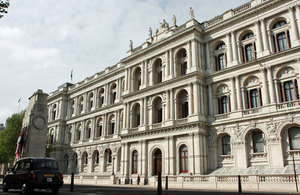 "Today's Parliamentary elections gave Afghans an opportunity to select their representatives and to shape the future of their country. Despite major challenges, it represented another important step towards a secure and stable Afghanistan in which Afghans have responsibility for their own affairs.
The Afghan authorities have run these elections in difficult circumstances. They have faced and successfully overcome major logistical difficulties. It is encouraging that the Afghan National Security Forces were able to provide sufficient security so that the vast majority of the planned polling stations could open. Great courage has been shown by those Afghans who acted as officials, who stood as candidates and who exercised their right to vote. Attempts to disrupt the electoral process and prevent Afghans from voting through intimidation and violence deserve nothing but condemnation. Our sympathies go out to those who were killed or injured during this election period seeking to secure a better future for their country.
We now need to wait patiently for the completion of the counting and adjudication processes. It is for the Afghan authorities to investigate any reports of irregularities in accordance with Afghan law."
Published 18 September 2010