Afghanistan: New UK support for award winning tax project
International Development Secretary Justine Greening and the Afghan Finance Minister Omar Zakhilwal announced a new phase of UK support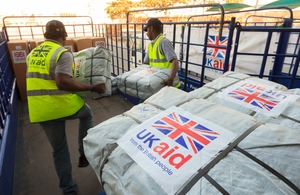 Secretary of State for International Development Justine Greening and the Afghan Finance Minister Omar Zakhilwal announced a new phase of UK support to an award-winning Afghan tax project today.
The project will support the self-reliance agenda of the Afghan Government, through increasing levels of domestic tax revenue to help finance the delivery of basic services.
The Tax Administration Project (TAP) is a project administered by the Ministry of Finance's Afghanistan Revenue Department. It ensures the Afghanistan Revenue Department is a modern, efficient and customer-focused revenue collection agency, and will further improve revenue collection.
The new phase of support to the Afghanistan Revenue Department will: 
establish regional taxpayer offices in priority provinces; 
strengthen management and technical capacity in the Afghanistan Revenue Department; and 
improve the Afghan Government's revenue collection (as a % of GDP from 11% to 15% by 2016).
The Secretary of State for International Development, Justine Greening said:
I am very pleased to be alongside Minister Zakhilwal to reaffirm the UK Government's long term commitment to Afghanistan. At the Tokyo Development Conference we pledged to maintain our current development assistance of £178 million a year until at least 2017 in July.

Afghanistan has made significant progress over the last decade but there is still more to do. That's why today we are extending our existing support to the Afghanistan Revenue Department -it's already a successful partnership with the Ministry of Finance that's seen tax rewards soar eight times from $250m in 2004 to $2 billion in 2012 so it makes sense to go ahead with this next phase.

This UK support will help the Afghan Government deliver one of the key areas of the five Tokyo Mutual Accountability Framework commitments.
The Afghan Minister for Finance, Omar Zakhilwal said:
I would avail this opportunity to thank the United Kingdom, the fourth largest bilateral donor to Afghanistan, for its generous support over the past years. Our achievements on public finance management and especially revenue collection has been remarkable. We count on support from the UK and other partners in furthering reforms and striding towards reaching higher levels of fiscal sustainability.
Justine Greening was in Afghanistan for the first time to see for herself the significant progress that has been made over the past decade. During her visit she met with senior members of the Afghan Government including President Karzai. She travelled to Helmand and visited a UK funded health centre which has helped thousands of Helmandis access basic health services. She also had a lunch with a number of inspirational Afghan women who are working hard to improve the lives of women and girls, and a number of Afghan business owners in Kabul at one of the Afghanistan Revenue Department's tax offices.
Published 3 December 2012