Afghanistan: Monthly progress report February 2011
Foreign Secretary William Hague has updated Parliament on progress in Afghanistan over the month of February.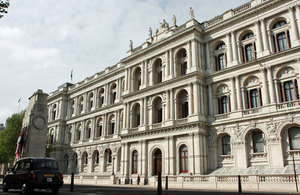 In a written statement to Parliament the Foreign Secretary said:
"The report focuses on key developments during the month of February.
ISAF and Afghan National Security Forces (ANSF) continue to make steady progress on extending security. ISAF commanders are confident that ISAF and Afghan military operations over the winter have significantly reduced insurgent capability, but the rising numbers of weapons found indicate clearly that the insurgents have every intention of stepping up their attacks. Recruitment of Afghan Army and Police remains ahead of target, but the standard of Afghan National Police leadership needs to be improved and the rate of turnover of recruits needs to be reduced. The Afghan Parliament's election of a new Speaker, after a protracted process, is an encouraging step forward, but further appointments need to be confirmed before the Parliament can play a full role in the legislative process. Stronger links are beginning to develop between central and local government in Helmand, through governance, rule of law and economic development programmes and better access to government-provided services including transport. This is essential to help the Afghan Government deliver basic services and win the support of the population. Concern remains over a lack of progress in certain areas, for example, women's rights. Through the High Peace Council the Afghan Government is increasing its dialogue with its neighbours to promote regional engagement in the wider political process. This is an encouraging step forward towards building confidence across the region, which is clearly a long-term challenge.
As I place this Report, the Government of Afghanistan has announced that the following Provinces and Districts will begin the process of transition to Afghan security responsibility: Kabul (excluding Sorobi district); Panjsher Province; Central Bamyan Province; Western Herat; Lashkar Gah; Mazar-e-Sharif (Balkh Province); Mehtarlam (Laghman Province). Further details will be included in the progress report for March."
Published 4 April 2011