Afghan police chief helps reintroduce kites to the Helmand skies
Youngsters in Kopak, in the Nahr-e Saraj district of Helmand province, were presented with the traditional symbol of Afghanistan's culture thanks to an idea from the 5 RIFLES.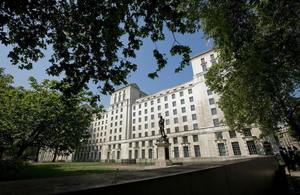 Kite-flying is a traditional pastime in Afghanistan and kites were a common sight until the activity was banned under Taliban rule.
The idea to reintroduce them in the local area was the brainchild of Lance Corporal Emma Pengilly, of D Company, 5th Battalion The Rifles (5 RIFLES), who operate in the region.
Lance Corporal Pengilly discussed the project with the local Chief of the Afghan Uniform Police, Lieutenant Mirza Khan, and then raised the idea with local Afghans, obtaining a positive response from the mullah of the local mosque.
Lieutenant Khan attended a shura, or meeting, with local elders and asked if they would like kites for their children - and the answer was resoundingly positive. Within minutes of the shura ending, one of the kites, distinctive by its Afghan traditional colours of green and yellow, was seen flying high in the sky.
Lance Corporal Pengilly said:
The mullah of the local mosque burst into a huge smile the first time we mentioned the idea to him, and the local people have responded really well to the idea of the kites.

It was great to see them feeling secure and thinking towards passing an important part of their heritage onto their children.
Lieutenant Khan said:
I used to fly kites when I was young and I really enjoyed giving out the kites so that the children can fly them. I wish there was enough for me to have a kite to fly myself!
Major Matt Baker, Officer Commanding D Company, 5 RIFLES, said:
This is a really important sign that local people are no longer afraid of the Taliban. This exercise has shown that members of the community are looking to pass their heritage to the next generation, a sign that people are looking forward to a prosperous future.
Related news and links
Published 1 February 2012