Afghan Army Chief returns to Sandhurst
During his visit, General Sher Mohammad Karimi, Afghanistan's Chief of the General Staff, met three officer cadets from Afghanistan who are …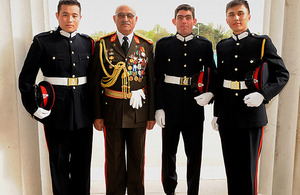 During his visit, General Sher Mohammad Karimi, Afghanistan's Chief of the General Staff, met three officer cadets from Afghanistan who are currently training at the Academy.
In 1968, the General studied as part of Sandhurst intake 41. Officer Cadets Soliman Khaleghy, Noor Rahimi, and Mahmood Yaqbi, of the Academy's intake 103, are due to pass out in August 2011.
While in the UK, General Karimi also met with the British Chief of the Defence Staff, General Sir David Richards, in London, where he was received by a Guard of Honour formed by 1st Battalion Welsh Guards, and the Band of the Scots Guards, at Horse Guards Parade.
During his trip, the General met with senior military officers at the Ministry of Defence to discuss International Security Assistance Force (ISAF) operations in Afghanistan, and the development of the Afghan National Army.
Published 19 April 2011