Press release
Affordable flood insurance one step closer
Flood Re comes one step closer to implementation, better protecting people in high flood risk areas against spiralling insurance costs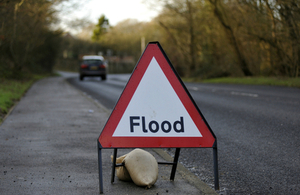 People in the highest flood risk areas will be better protected against spiralling insurance costs as Flood Re comes one step closer to implementation today.
After ongoing negotiations with the Association of British Insurers (ABI) and Flood Re, an agreement has been reached on a number of matters regarding how Flood Re will operate.
This will enable legislation to be laid in Parliament next year and - once approved by the financial regulators - enable Flood Re to operate as a reinsurer.
This comes at the same time as the government publishes its response to the public consultation carried out in the summer.
As part of the package of measures, the criteria has been widened to include further properties that will be eligible for Flood Re. This received wide support in the public consultation and from the insurance industry, which has agreed to fund this without passing costs on to other consumers.
Environment Secretary Elizabeth Truss said:
Whilst nothing can take away the distress that flooding can cause, having access to affordable insurance will give people peace of mind.

For the first time, we will ensure access to affordable flood insurance for people regardless of where they live. I'm delighted that we are one step closer to making this a reality and protecting people from spiralling insurance premiums.
Flood Re's Chief Executive, Brendan McCafferty said:
My top priority when I became CEO in November was to lead Flood Re through the negotiation of some very difficult issues. I am very pleased that we have reached a deal that will work for Flood Re, insurers, government and, most importantly, consumers.

Flood Re is of huge importance to hundreds of thousands of householders at risk of flooding, and this agreement allows us to progress beyond the design phase so that Flood Re can become a reality.
The ABI's Director of Policy and Deputy Director General, Huw Evans said:
This agreement demonstrates once again the determination of insurers and the government to get Flood Re up and running so that residents at highest risk of flooding can access affordable and available insurance.

Insurers are investing £17 million and thousands of hours of expertise to get Flood Re built and to play our part in helping manage this country's flood risk. Today's agreement marks a big step forward in this task.
Further details of the agreement to include Band H properties (Band H and I in Wales) are included in the government's response to the consultation on the draft legislation, and can be found here.
Published 18 December 2014