World news story
AEL v Tottenham Hotspur – Europa League
Travel advice for Tottenham Hotspur fans travelling to Cyprus for the AEL v Tottenham Hotspur Europa League Match on Thursday 21 August.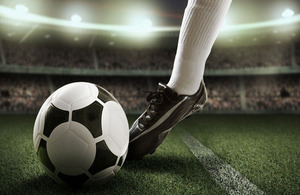 Game: AEL v Tottenham Hotspur
Date: Thursday 21 August 2014
Venue: Antonis Papadopoulos Stadium, Larnaca
Kick off time: 7pm
As well as this advice, check out our travel advice for Cyprus and information about holidaying in Cyprus.
Passports and visas
You don't need a visa to travel to Cyprus as it is in the European Union but your passport must be valid for the duration of your trip
Remember your European Health Insurance Card (EHIC) but also take out travel insurance, even if you're only going for one night - it could save you a lot of money if you get into difficulties
If you lose your passport whilst you are in Cyprus, The British High Commission in Nicosia can issue you with an Emergency Travel Document to return to the UK (Contact details below)
Getting to the stadium
There are no trains in Cyprus. Travel is by bus from the airport. Take bus number 425 from the airport to the centre of Larnaca(Finikoudes area). Taxis from the Larnaca Finikoudes area to the Antonis Papadopoulos Stadium will cost approximately 8 euros. More information can be found on www.cyprusbybus.com/routes
At the match
Tottenham Hotspur fans are seated in Blocks A and Z in the South Stand of the stadium.

This stand has electronic turnstiles and all the necessary facilities.

Large amounts of loose change and lighters may be confiscated and are unlikely to be returned. No bottles and cans are allowed to be brought into the ground and alcohol cannot be consumed on the stand. Flags and banners without poles are allowed subject to size.

Visiting supporters will be kept behind for around 15 minutes after the match to allow the home fans to disperse
Tips
Only carry what you need and leave spare cash and valuables in hotel safety deposits
Contact the British High Commission in Nicosia
Consular Section
British High Commission
Alexander Pallis Street
PO Box 21978
Nicosia 1587
Telephone +357 22861100 (also for out of hours emergencies)
Office hours: Monday to Friday: 7.30am – 2.45pm.
For more information please visit the British High Commission page.
Emergency services numbers
In an Emergency if you require an ambulance or police assistance call 112
Further information
Further information about the match visit:
or for further information about Cyprus and places to visit go to:
Published 14 August 2014