News story
Advice on charity land and property
How charity trustees can get free, bespoke advice on land or property matters from the Ethical Property Foundation.
This news article was withdrawn on
No longer current. Refer to Ethical Property for advice on land and property matters.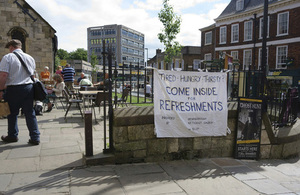 Most charities in England or Wales can buy or sell land they own without needing to get approval from the Charity Commission, providing:
it's in the charity's best interests
the trustees try to get the best deal for their charity
the trustees follow the requirements set out in the commission's charity land and property guidance
But the process is generally more complex when the commission's approval is needed – for example, if you're selling land to someone connected to your charity. The commission recommends you take advice if you think its approval is needed for a property transaction - but it can't provide this advice itself.
That's where the Ethical Property Foundation comes in. If you're a charity, you can sign up for free to access over 125 pages of free, regularly updated property guidance, checklists and templates. And if you can't find the answer you need, you can contact its property advisers for bespoke, one-to-one advice on complex issues like:
disposal of charity assets and related reports
buying premises and taking out mortgages
title deeds and other governance issues
use of charity buildings
leasing premises and managing buildings
Contact the Ethical Property Foundation
The Ethical Property Foundation also keeps a list of property professionals that give discounted and free advice to charities.
Published 5 February 2015