News story
Advice for British nationals preparing to travel to the Hajj
Around 18,000 are expected to make the journey from 13-18 October.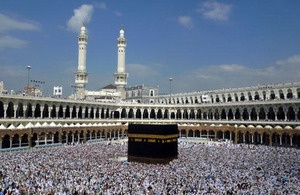 Britons travelling to Saudi Arabia for the Hajj should prepare carefully and follow travel safety advice.
The Foreign Office is advising Hajj pilgrims to check the Foreign Office travel advice for the latest on the situation in Saudi Arabia The Foreign Office will provide the full range of consular services with a team based in Makkah for the duration of the Hajj. The majority of cases that we handled last year were replacing travel documents

Pilgrims should ensure they look after personal belongings and should take particular care with travel documents, tickets and other valuables

On 12 July, the Saudi Ministry of Health advised certain groups of people to postpone undertaking the Hajj pilgrimage this year in light of the recent bout of MERS virus cases. It also provided advice for those that are undertaking the pilgrimage to minimise the risk of contracting and spreading the virus. See the Saudi Ministry of Health and the National Travel Health Network and Centre's Advice for pilgrims: Hajj and Umrah.
The FCO's consular team will be located at the Moevenpick Hotel:
Hajar Tower Makkah
21955
PO Box 17700

Telephone: 00966 (12) 57 17171
Mobile: 00966 501 004 268
Further information
Follow FCO travel advice on twitter @FCOtravel and on facebook
Published 9 October 2013