Press release
Adoption of EU sanctions against individuals in Russia and Crimea
The Foreign Secretary welcomes EU sanctions against Russian and Crimean individuals following illegitimate referendum.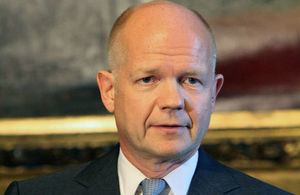 The Foreign Secretary today attended a meeting of the EU Foreign Ministers in Brussels where sanctions were agreed on individuals from Russia and Crimea. Asset freezes and visa bans will be imposed on 21 people associated with the decisions that Russia has made about Crimea, including members of the armed forces and in the Parliament.
These measures are in direct response to threats to Ukraine's sovereignty and territorial integrity by officials in Crimea and Russia.
Following the meeting William Hague said:
I am pleased that we have reached agreement on these measures, on asset freezes and visa bans. Particularly that these are individuals not just in Crimea but in Russia as well, including in the armed forces and in the Parliament; people who are associated with the decisions that Russia has made about Crimea.
I think that it is an important statement of European unity and resolve on this question, coinciding of course with the measures taken by the United States.
This is not a list that is set in stone. It is possible to add other figures in the future, depending on how Russia reacts to the referendum in Crimea, which has been a mockery of any real democracy. It also depends on how they are react to possibilities of discussions and direct negotiations with Ukraine over the coming days. And it goes along with the other measures that we have taken.
And we have started today discussing the longer term; the need to reduce European dependence on Russian energy over many years to come. It is these sort of things that will be the biggest costs in the long term to Russia if we make no diplomatic progress over the coming weeks.
So I am pleased we have made this decision, that there has been very ready agreement to these things and we'll stand ready to build on these measures if it becomes necessary to do so.
Further information
Read the latest updates on the government's response to the situation in Ukraine
Follow the Foreign Secretary on facebook and on twitter: @WilliamJHague.
Follow the Foreign Office on Twitter.
Follow the Foreign Office on Facebook & Google+.
Published 17 March 2014