Press release
Adoption: £50 million funding boost and new interactive maps
Children's Minister Edward Timpson announces new resources to help would-be adopters find a child to adopt - plus more cash for councils.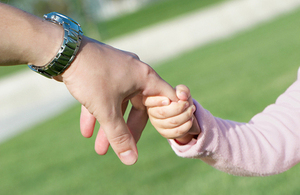 Prospective adopters can click onto new maps to see who could help them find a child to adopt - plus more cash for councils - in a package of support announced today by Children and Families Minister Edward Timpson.
For the first time fully interactive, clickable maps have been published to help would-be adopters find out more about agencies in their area and across the country, help them make an informed choice based on performance and help them access the most appropriate recruitment agency for them - wherever it may be.
Publication follows the successful launch of the first ever adoption maps at the start of this year, prompting a surge of enquires to the First4Adoption service. Also announced today:
£50 million for councils as they prepare to implement reforms and work with voluntary adoption agencies (VAAs) - and each other - to recruit more adopters for the 6,000 children waiting for a loving home
a new adoption leadership board supporting local authorities drive through the reforms in the Children and Families Bill, and help adoption agencies stay on track recruiting more adoptive parents
Building on the successes of 2013, which saw a 34% increase in adopters and a record 15% rise in adoptions, Children and Families Minister Edward Timpson - who has 2 adopted brothers - said:
I've seen promising progress this year - a significant rise in adoptions and a huge increase in the numbers of adopters, but I am determined to do everything in my power to ensure the 6,000 children waiting are offered safe and caring homes. This Christmas I want anyone considering adoption to look carefully at the information in our interactive maps and consider whether they can offer a child a stable and loving home.

There remains significant work to do next year. Our new adoption leadership board will play an important role ensuring local authorities and adoption agencies stay on track and recruit more adopters - and a further £50 million for councils in 2014 will help them put the building blocks in place to implement our reforms.
We are also extending the Adoption Reform Grant (ARG) into 2014 - providing £50 million to local authorities in recognition that they need to implement the changes in the Children and Families Bill based on the needs of their local communities. This year councils have used the £150 million ARG to work with voluntary adoption agencies, support the drive to recruit more adopters in their areas, provide better post-adoption support and streamline their services to make them swifter and more efficient for would-be adopters.
Last Christmas the Prime Minister set out a comprehensive package of reforms to overhaul the adoption system. This year we have taken action to implement these plans.
We have given adopters new resources, including the adoption passport, setting out their rights and entitlements and launching the First4Adoption one-stop shop for information and support as would-be adopters navigate the system.
We have introduced a faster approval process so the majority of adopters are approved within 6 months, and introduced new rules so prospective adopters and children waiting to be adopted are placed on the adoption register within 3 months.
Through the Children and Families Bill we have introduced sweeping legal reforms which will place children waiting for loving homes at the heart of the system.
In addition to the reform package announced today, in 2014 we will:
publish updated adoption scorecards showing the progress local authorities are making towards our targets on rate and pace of adoption - published in the 2012 action plan for adoption
pilot the new £19.3 million adoption support fund to ensure successful rollout nationally in 2015
introduce the pupil premium plus for adopted children, and children in care from day one of their placement - and extending free early education for adopted 2-year-olds
offer a series of expansion grants to VAAs to help them grow and recruit more adopters
implement the package of reforms we are taking forward in the Children and Families Bill
Head of Service at First4Adoption, Gemma Gordon-Johnson, commented:
These new maps make it clear that many more adopters are needed for the thousands of children currently waiting for loving homes across England. Many more people can adopt than you might think, so we hope that these maps encourage more would-be adopters to consider offering children the love and security that permanence can bring.
Hugh Thornbery, Adoption UK Chief Executive said:
It's a really positive time for adoption; I'm looking forward to working with others on the Adoption Leadership Board to drive the adoption policy reforms through to making an enduring difference for children who have had the worst possible start in life.

We've seen a rise in adoptions this year, but we still need more adopters to provide loving homes for some of society's most vulnerable children. We know that key to attracting more adopters is the assurance of accessible, timely and appropriate support. One of the Board's tasks will be to turn the government's aspirations for better adoption support into reality so that adoptive parents and their children receive the support they need to build strong families and bright futures.
Srabani Sen, Chief Executive, British Association for Adoption & Fostering (BAAF)
Considerable work has taken place over the past year to ensure that children who are waiting for a loving adoptive home are found those homes as quickly as possible. Establishing a sector-wide adoption leadership board to oversee the progress and sustainability of that work is to be welcomed as an important next step. Ensuring that local authorities have the funding to maintain and sustain their contribution to this important challenge is equally to be welcomed. 2014 will be a critical year in the delivery of the adoption reform agenda and these announcements should play an important part in ensuring that the resources will be available to enable that.
Notes to editors
Find out more about the Children and Families Bill. Our reforms due to be implemented in 2014 include:

seeing more children placed in stable homes earlier by changing the law to require a local authority to consider a fostering for adoption or concurrent planning placement wherever appropriate
reducing delay for black and ethnic minority children by removing the requirement that adoption agencies give 'due consideration' to a child's ethnicity when identifying suitable adoptive families
further increasing the number of adopters available to offer loving homes to children waiting by challenging local authorities to work with VAAs and each other - or we will use our legal power to intervene
giving adopters choice of how to obtain adoption support through the provision of personal budgets
increasing prospective adopters' knowledge of their adoption support entitlements by placing a duty on local authorities to inform them of their entitlements
giving approved prospective adopters a more active role in identifying children they might be suitable to adopt, by amending the current restrictions around "public inspection or search" of the Adoption and Children Act Register so that they can access the register directly, subject to appropriate safeguards.

see the latest statistics on adoption and number of adopters
In 2013 we have achieved the following:
launched the First4Adoption information line in January, and website in April providing a one-stop shop of information and support for prospective adopters - in November the website received 21,696 unique visits from people interested in adoption
introduced the Children and Families Bill in February including comprehensive legislative reform to place children at the heart of decision making
provided local authorities with the £150 million adoption reform grant to spend between April 2013 and March 2014 on recruiting more adopters
published research in April which found that 650,000 would adopt, but are put off by myths and misconceptions
published the adoption passport in May setting out exactly what support adopters are entitled to and can expect, including new priority school admissions for adopted children who were previously looked after
in July the government's 'Adoption and fostering: tackling delay' regulatory reforms came into effect, including:

the new 2-stage approval process for adopters, making the system more focused on the adopter and replacing unnecessary bureaucracy, so the majority of adopters are approved to adopt within 6 months
a new legal obligation on all adoption agencies to refer prospective adopters to the Adoption Register within 3 months of approval, and a duty to ensure that the information on children waiting to be adopted is kept up to date, as well as referring the children within 3 months of the adoption decision
a new, streamlined, assessment and approval process for foster carers that was introduced in July

announced a £16 million boost package in August for voluntary adoption agencies in August to help agencies recruit and approve more adopters
in September announced we announced the £19.3 million self-sustaining adoption support fund so adopters can continue to access therapeutic services for their adopted children
published statistics in September showing a 15% rise in adoptions - the highest since 1992
announced the pupil premium plus for adopted children - from April 2014, schools in England will attract the pupil premium for children adopted from care or who left care under a special guardianship order on or after 30 December 2005, providing they are recorded on the January 2014 school census; schools will also attract the pupil premium for all children who left care under a residence order recorded on the school census
worked with The College of Social Work to develop a continuing professional development curriculum guide for social workers working on adoption and fostering, published in November
in November, Ofsted published their statistics showing a 34% increase in the number of adopters approved to adopt this year
DfE enquiries
Central newsdesk 020 7783 8300
General enquiries 0370 000 2288
Published 24 December 2013