Press release
Admiralty Arch proposal gets go ahead
Formal approval was given for plans to restore the iconic Admiralty Arch to its former glory and open it up to the public, Minister for the Cabinet Office Francis Maude confirmed.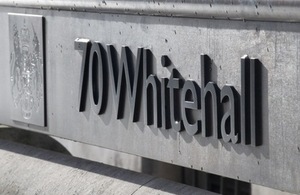 In a public meeting this evening, Westminster City Council (WCC) granted planning permission to developers Prime Investors Capital (PIC) to renovate the former office space into a 5* hotel, residences and private members' club.
The redevelopment is part of the wider Cabinet Office strategy to operate a more efficient government estate which has already seen it shrink by 16% since 2010 and raise over £1 billion for the taxpayer by selling buildings and land no longer needed. The 99 year lease agreement signed between HM Government and PIC in October 2012 will raise an additional £60 million from the sale of Admiralty Arch's leasehold, as well as creating jobs within the regeneration project.
Francis Maude said:
The plans approved today will breathe new life into Admiralty Arch, transforming it from unsuitable office space into a publicly accessible landmark that everyone can admire and enjoy.
Hard-working families rightly expect us to make the most of what we own; historical and architecturally significant buildings like the Arch shouldn't be sitting empty in the government's estate wasting £900,000 a year to run. Instead we're raising £60 million for the taxpayer and working closely on every aspect with Prime Investors Capital (PIC), Westminster City Council and English Heritage to restore it to its former glory.

Retaining the building's freehold will mean that the public will always have a say in its future and this restoration project will create jobs, boost the local economy and help reduce the deficit.
Cllr Robert Davis, Westminster City Council deputy leader, said:
This is an exciting application that will return an iconic piece of London's architecture to its full glory.

Personally I am delighted that this building will now see high quality public use.
Since winning the leasehold following a highly competitive and rigorous bidding process, PIC has been working tirelessly with its team of 20 British experts to develop a strategy that will ensure that Admiralty Arch's rich history will be both preserved and celebrated.
Prime Investors Capital CEO Rafael Serrano said:
We are delighted and grateful that Westminster City Council has granted us permission to begin work on the sensitive restoration of Admiralty Arch. We can now give this historical building a worthy and suitable purpose as its designer Sir Aston Webb originally intended and open it up to the public.

A great deal of care, attention and hard work has gone into making this development possible and I am thankful to all local stakeholders, particularly the neighbours and residents who have shown their support for our scheme throughout the planning process.

I must also thank my entire professional team, who have been integral to the success of the project. There is a great deal of challenging work ahead, and we are excited at the prospect of seeing the fruits of our labours over the coming months and years. Together we will restore Admiralty Arch into a landmark attraction the whole country can be proud of.
Originally designed as a ceremonial passage from Trafalgar Square towards Buckingham Palace, Admiralty Arch is a London landmark with historically and architectural significance. The plans put forward by PIC will see the Grade-1 listed building sensitively renovated in keeping with architect Sir Aston Webb's original drawings from around 1910 with many lost designs restored.
Construction will commence in early 2014 and the hotel is expected to open its doors to the public in 2016.
Notes to editors
The government office estate is now 16% smaller than it was in 2010. Since 2010, the Cabinet Office's Government Property Unit has helped departments vacate over 1,000 leasehold and Private Finance Initiative properties, and raise over £1 billion for the taxpayer by selling over 770 buildings and land no longer needed. Read more about the government property strategy
Admiralty Arch originally housed offices and residences for the Sea Lords of the Admiralty and was used by the Navy and the Ministry of Defence until 1994.
The 99-year lease for Admiralty Arch was sold for an agreed premium of £60 million to Prime Investors Capital (PIC), subject to a number of conditions to be satisfied within 3 years including planning permission. There is also an option for PIC to call for a 125-year lease before the lease is granted for an additional £5 million.
Prime Investors Capital is a London-based investment management company, which specialises in real estate development and investment, acquiring and developing prime property worldwide. PIC has brought together a unique team of 20 respected British companies for the Admiralty Arch restoration project. Each company has a considerable and successful track record in its particular field of expertise, and working with buildings of national importance.
Rafael Serrano, Chief Executive of Prime Investors Capital, is a former JP Morgan investment banker who has lived and worked in London for 25 years. Serrano led the origination, funding and development of the BULGARI Hotel and Residences in Knightsbridge. At the beginning of 2012, Serrano entered the bidding race for Admiralty Arch through his investment vehicle, Prime Investors Capital (PIC). Serrano is leading the team of experts, which includes architect Michael Blair, of Blair Associates Architecture, who undertook the extensive restoration of Claridge's, The Connaught and The Ritz, English Heritage expert Dr Christopher Miele, whose portfolio includes Westminster Abbey, The V&A, The British Museum and The Ritz, and construction partner Sir Robert McAlpine, which has over 150 years' experience in working with Grade I listed buildings.
After a very thorough and transparent public consultation process, where over 100 parties were notified of the planning application, not a single objection was received ahead of the committee.
PIC has received interest from a number of well-known hotel operators, however no operator has been selected yet. Throughout the application process, the team at PIC have been in regular consultation with their in-house team of hotel experts to assist in the design and operations of the hotel.
View a series of pictures of Admiralty Arch.
Published 20 August 2013