Admiral visits Arctic helicopter training base
The Commander-in-Chief Fleet, Admiral George Zambellas, received a warm welcome last week, despite being 200 miles (322km) inside the Arctic Circle, when he visited the Joint Helicopter Command (JHC) training base in Bardufoss, Norway.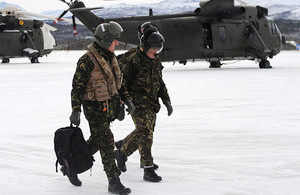 The base, known as Clockwork JHC, provides survival and operational training and support facilities that enable aviation-capable units to survive, operate and fight in extreme cold weather environments.
As well as receiving briefs on and touring the Clockwork training facilities, Admiral Zambellas was able to visit the surrounding area. The inhospitable terrain, extreme weather conditions and temperatures as low as minus 35 degrees Celsius make Bardufoss the ideal location for cold weather warfare training.
During his visit the Admiral met some of the 200 naval personnel in the Commando Helicopter Force (CHF). The 'Junglies', as they are colloquially known, are normally based at Royal Naval Air Station Yeovilton, but are currently deployed to Clockwork to undertake training and make preparations for Exercise Cold Response which takes place in northern Norway in mid-March.
This exercise involves 2,000 Royal Navy and Royal Marines personnel, and the nation's flagship HMS Bulwark, amongst other UK ships, squadrons and units. These units will operate alongside a dozen other nations and 13,000 troops.
Captain Matt Briers Royal Navy, Commanding Officer of the CHF, was able to show the Admiral first-hand how well his people are prepared for Cold Response when he showed the Commander-in-Chief around a forward operating base (FOB).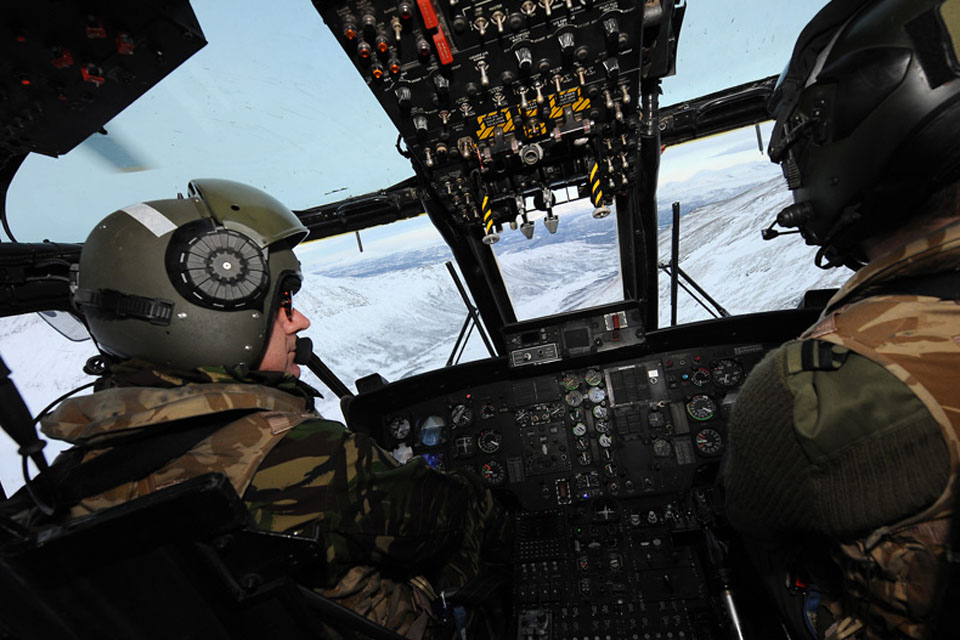 The Admiral was able to view various key positions around the FOB, talk to personnel, and even share lunch in the form of Chicken Tikka from an Arctic 24-hour ration pack in the dining room, a 'lean-to' survival shelter.
The highlight of the Commander-in-Chief's visit was when he took to the skies in a Sea King Mk4. A helicopter pilot himself, he viewed a number of snow landings before taking control of the aircraft for a navigation sortie over the Norwegian mountains.
On completion of his visit, Admiral Zambellas said:
Clockwork training at Bardufoss is a jewel in our defence crown. We are training about 700 personal a year in specialist skills, in outstanding facilities, for a very good price.
We have land, mountain, air and sea training areas with firing ranges all very close to a major Norwegian airfield. This is exactly what we need to maintain joint skills in a challenging environment.
Captain Briers added:
I am absolutely delighted that the Commander-in-Chief has managed to find the time to visit Clockwork JHC in what is a very busy time for him.
Clockwork is as relevant and as important today as it has always been in our over 40-year association here in Norway. It enables us to prepare our people for operations in Afghanistan and it's absolutely fundamental to the delivery of littoral manoeuvre for the Royal Navy given the geography and the excellent facilities that exist in the local area.
Also, in a wider sense, it enables our people to go anywhere in the world and operate very complex aircraft in the most challenging of environments. If you can operate in Norway you can operate anywhere.
Major Dave West Royal Marines, Officer Commanding Clockwork, said:
We were delighted to host the Commander-in-Chief and to show him the facilities at Bardufoss. He has confirmed his full support for the training that we are conducting here in Norway, both in enhancing and consolidating our Arctic operating procedures and for the force generation for the amphibious exercise Cold Response.
Lieutenant Adam 'Spook' Spike Royal Navy, a Clockwork training officer, said:
It was a pleasure to take the Admiral flying and to demonstrate a variety of the advance flying techniques that we teach front line pilots in this exceptionally challenging environment.
Published 24 February 2012