Press release
Action to protect second hand car buyers
Transport Minister Mike Penning announces introduction of a new, more secure, vehicle registration certificate.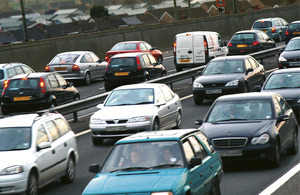 The introduction of a new, more secure, vehicle registration certificate was announced today (21 July 2010) by Transport Minister Mike Penning as new information is published online giving drivers tips on what to look out for when buying a second hand car.
The new certificate is being introduced following the theft of a number of blank certificates in 2006. The aim is to reduce the risks to motorists of buying a stolen or cloned vehicle. The new documents will be issued from 15 August 2010 for all newly registered vehicles and when there are changes to an existing registration, such as a change of keeper or address.
From the middle of next year, the new certificate will be issued to all remaining vehicles when they are re-licensed or declared to be off the road. The existing blue V5C will remain valid for these vehicles until it is replaced and DVLA will not be asking for the old V5C to be returned.
Mike Penning said:
Too many people are being tricked into buying stolen or cloned vehicles.

We know that criminals try to legitimise the sale of a stolen or cloned vehicle with a forged or stolen registration certificate and they get away with it because many motorists believe that a registration certificate is proof of ownership. It is important that motorists are aware that this is not the case.

That is why I am pleased to announce a new, more secure vehicle registration certificate, which not only looks significantly different to the ones that were stolen, but also carries a clear message on the front of it that it is not a proof of ownership.

We have also published easy to follow advice on what steps to take before buying a used vehicle on the web.

I hope these measures will help reduce the number of innocent motorists who fall victim to crime.
DVLA recommends buyers ask to see proof of ownership of a vehicle - such as a bill of sale - and check the vehicle's service records and a MOT certificate to assure themselves that the sale is legal.
Buyer Beware information can be found on Directgov
Notes to editors
Existing V5Cs will remain valid until they are replaced.
Images of both the new and existing certificates are attached for comparison. They are also available on Directgov
The theft from DVLA's paper supplier took place in 2006 and a police investigation is ongoing.
DVLA normally issues around 17 million vehicle registration certificates and expects to issue an extra 18 million vehicle registration certificates by August 2012.
This is a UK wide certificate and will be issued to vehicles registered in Great Britain and Northern Ireland.
Useful tips when buying a used vehicle include:
be careful of adverts quoting mobile phone numbers - owners are hard to trace
watch out for adverts giving a landline number with specific times to call - it could be a phone box
find out the market value of the vehicle - if it's being offered much cheaper, ask yourself why
find out where the vehicle's stamped-in Vehicle Identification Number (VIN) should be so that you can check it against the vehicle registration certificate (V5C)
arrange to see the vehicle in daylight at the seller's home and not in a public place such as service stations, pub car parks and petrol forecourts
ask to see additional identification
check whether the vehicle has outstanding finance, as this could affect your rights to the vehicle
ask to see proof of ownership such as a bill of sale
ask to see the vehicle service records and a MOT certificate
Press office
DVLA Press Office
Longview Road
Morriston
Swansea
SA6 7JL
Email press.office@dvla.gsi.gov.uk
Telephone (only for use by journalists and the media): 0300 123 0791
Telephone (out of office hours – only for use by journalists and the media): 0300 123 2407
Published 21 July 2010