News story
AC Milan vs. Celtic: travel advice
Advice for fans travelling to Italy for Celtic's Champions League group match with AC Milan on 18 September 2013.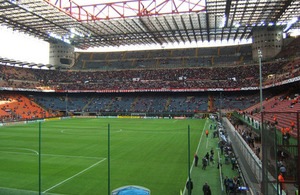 Date: 18 September 2013
Time: 2045 (local time)
Venue: San Siro Stadium, Milan
As well as this advice, check out our travel advice for Italy.
Passports and visas
You don't need a visa to travel to Italy but you must have a valid passport.
Remember your European Health Insurance Card (EHIC) but also take out travel insurance, even if you're only going for one night - it could save you a lot of money in you get into difficulties
In Italy it is obligatory to carry ID with you at all times - you'll also need to take your passport to the match to gain entry to the stadium.
If you lose your passport, or have it stolen, you will need to obtain an Emergency Travel Document from the British Consulate in Milan which requires a police report, flight reservation and one photo. Fee: 116 euro
Getting to the stadium
Best way to the stadium: Metro red line No.1 (direction Rho Fiera). Alight at Lotto station from where special shuttle buses will take you to the stadium. These buses may not run after the match so be prepared for a 20 min walk back to Lotto. Visiting supporters should avoid Axum Square (Piazza Axum) opposite the stadium and therefore also Bus no. 16 which drops off there.
Coaches organised for those travelling by special charter flights.
Local transport ATM website – info available in English. There are major road works and traffic diversions in the area.
At the match
Access to the stadium can be slow. There will be ticket checks and you should have your passport with you. Body searches may take place at the entrance to the turnstiles. To avoid a last minute bottleneck you should aim to arrive at the stadium early.
Large amounts of loose change, heavy lighters and belts with big buckles may be confiscated and are unlikely to be returned. No bottles or cans are allowed into the ground and alcohol is banned within the stadium. Supporters should consult their club regarding size of flags and banners without poles.
Visiting supporters will be kept behind for around 30 minutes after the match to allow the home fans to disperse
Tips
As in any other city beware of pickpockets and bag snatchers at airports, railway stations, around the town centre and when using public transport. Only carry what you need, leave spare cash and valuables in hotel safety deposits and never leave valuables or anything on show in cars.
British Consulate General
Tel (24 hrs) : 06-4220 2431
Emergency services
Police: 112
Ambulance: 118
Fire Brigade: 115
Further information
Follow Foreign Office travel advice on twitter @fcotravel
Follow the Foreign Office on twitter @foreignoffice
Follow the Foreign Office on facebook and Google+
Published 13 September 2013