News story
Abu Qatada deported to Jordan: lessons must be learnt
Home Secretary Theresa May has said people should take 'quiet satisfaction' that Abu Qatada has been deported from the UK.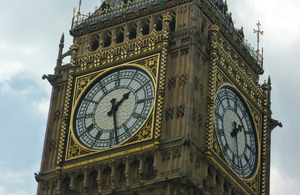 In a statement to Parliament, the Home Secretary told MPs that the government had respected the rule of law at every stage of the process which led to Abu Qatada's deportation in the early hours of the morning on Sunday (7 July).
She said:
We did not ignore court judgements we did not act outside of the law. We did what was right. And for a civilised nation, that is something we should be extremely proud of.
However following the deportation, the Home Secretary said it was important lessons were learnt and action taken to address the legal fees spent by defendants, the 'many layers of appeal' available to foreign nationals subject to deportation, and the interpretation of human rights laws.
Lessons learnt
In her statement she pointed to work already underway through reform of the legal aid system, proposals in the Immigration Bill making it harder for foreign nationals to prolong their stay with spurious appeals and wider work to prevent misinterpretation of the European Convention of Human Rights.
She said:
Today we should take quiet satisfaction that a dangerous man has been deported to face justice in his home country.
Published 8 July 2013