News story
About the First World War Centenary
How the government is working with partners to mark the 100th anniversary of the Great War.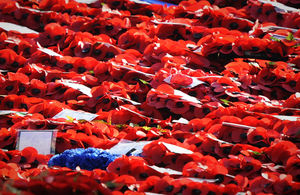 2014 will mark 100 years since the beginning of the First World War.
The government is working closely with a range of partners to lead the nation in acts of commemoration. August 2014 will see a range of events to mark the outbreak of war, with other key dates to be marked including the centenaries of the Gallipoli landings, the Battle of Jutland, the first day of the Battle of the Somme, the first day of Passchendaele and, finally, Armistice Day.
Marking the anniversary
More than £50m has been committed to marking the centenary. Grants towards the new First World War galleries at Imperial War Museum (IWM) London, and £1 million from the National Heritage Memorial Fund (NHMF) to save HMS Caroline, the last surviving warship from the Battle of Jutland, based in Belfast, have already been announced. IWM continues to fundraise for the First World War Galleries which will open in summer 2014.
Cultural programme
A programme of cultural events will form an important part of the centenary commemorations.
Curator Jenny Waldman is leading the planning for the cultural programme, reporting to a Centenary Cultural Programme Board. The programme will have a budget of around £10m of National Lottery money which will be matched by fundraising, and will be focused on three main periods: August 2014, July 2016 and Autumn 2018
Get involved
Organisations, community groups and individuals can download the official First World War Centenary logo to mark their own activity commemorating the anniversary.
The Centenary Partnership, led by IWM, is a growing network of over 1,000 local, regional, national and international non-for-profit groups and organisations with plans to commemorate the centenary. Becoming a member of the Partnership is free and provides access to a wealth of First World War expertise, resources and the logo.
Funding
The Heritage Lottery Fund (HLF) has so far awarded £12millon to support a range of First World War projects, both large and small.
Heritage Lottery Fund can provide funding to help groups, communities and organisations mark the Centenary by exploring, conserving and sharing the heritage of the First World War, from memorials, buildings and sites, to photographs, letters and literature. Find out more on the Heritage Lottery Fund website.
Further information
Published 10 June 2013