Press release
A453 to open in full
The A453 is to open in full in the East Midlands this weekend.
This news article was withdrawn on
This press release is no longer current.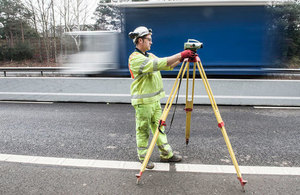 Cones will be lifted from the rural section of the A453 linking Nottingham to the M1 this weekend, ahead of a formal opening and naming ceremony on Monday.
The A453, which is made up of the five-and-a-half mile long rural section and a one-and-a-half mile long urban section, has more than doubled in capacity, bringing with it safety benefits and a boost to the local economy.
The urban section opened on 1 June, ahead of schedule, enabling all users to benefit from this part of the newly widened road early. With the opening of the rural section over the weekend, the full benefits of the project will be realised by Monday morning
Jonathan Pizzey, senior project manager for Highways England, said:
The opening of the rural section over this weekend is great news for all users. We know how strongly anticipated the improvements have been by the local community and anyone who drives the route regularly.

I would like to remind people to drive considerately, as contractors will be working over the weekend to remove all traffic management, and everyone will be getting used to the new speed limits and layout of the widened road.
The Highways England project has seen the urban area in Clifton widened from a single lane to two lanes in each direction, and the rural stretch upgraded to a dual carriageway with two grade separated junctions.
The urban four lane section of the A453 between Farnborough Road and Mill Hill Roundabout has a 40mph speed limit, which changes to a 70mph speed limit on the rural dual carriageway from Mill Hill to the M1.
There will still be some roadside activity while tidy-up and finishing works take place, and resources are moved from the site. This may necessitate some overnight closures including temporary speed restrictions in the next couple of months. Disruption will be kept to a minimum.
The widening scheme will improve access to the Parkway Railway Station and the NET 2 Park and Ride facility at Mill Hill Roundabout.
The main construction work to widen the road began on January 7 2013. The A453 will be formally opened on Monday 20 July 2015.
General enquiries
Members of the public should contact the Highways England customer contact centre on 0300 123 5000.
Media enquiries
Journalists should contact the Highways England press office on 0844 693 1448 and use the menu to speak to the most appropriate press officer.
Published 17 July 2015