Press release
A14 challenge launched
Release of the A14 challenge study which will deliver major improvements to the Cambridgeshire transport corridor.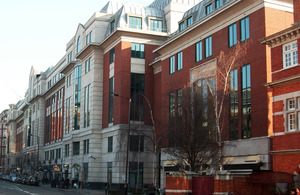 Road users, businesses and local communities are being encouraged to take part in a fast-paced study launched today by Roads Minister Mike Penning. The A14 Challenge will deliver major improvements to this key Cambridgeshire transport corridor.
All ideas for delivering quicker, more reliable and safer journeys on the route between Cambridge and Huntingdon are welcome. These will help shape the recommended package to be announced by the Department for Transport next summer.
The challenge is focussed on finding a long term solution to the capacity and congestion problems on the corridor - in particular between Ellington and Fen Ditton. Alongside this, a £20 million package was announced last month for quick win measures to reduce congestion and lessen the impact of incidents on the route.
Mike Penning said:
I urge anyone with an interest in tackling the congestion problems currently experienced on the A14 to submit their ideas for improvements to the A14 challenge.

This is far from being a study about what the problems are - they have been studied before and are well known. This is a great opportunity for local stakeholders to shape the solution.

We do not believe that, on its own, a simple road building solution is likely to be the best option. That's why local knowledge and understanding in areas such as public transport, local roads, freight facilities and land use development is vital to enrich the final package.
In last month's Autumn Statement, the government announced its commitment to increasing capacity and improving performance on the A14. As well as boosting economic growth, this will support proposed housing developments in Northstowe, and Alconbury, and potential further development at Waterbeach.
One area where innovative ideas will be welcome is in financing major improvements. The government has no intention of charging road users for an unimproved facility but would expect to consider tolling for enhanced capacity.
The views of participants in the challenge will help DfT, Cambridgeshire County Council, other local authorities and Local Enterprise Partnerships develop proposals by next spring and reach recommendations on a preferred solution by next summer.
Input will be collected by DfT from its dedicated email inbox, web based survey. In addition Cambridgeshire County Council, Suffolk County Council and Northamptonshire County Council will be gathering views from key local stakeholders in January.
Notes to editors
A14 challenge documentation can be found on the Department for Transport website.
On 29 November as part of the 'Growth review', the National Infrastructure Plan announced measures to improve the A14 including an improved bypass for Kettering, £20 million for immediate improvements including junction upgrades at the Girton and Spittals interchanges, additional signage for drivers and a study into longer term improvements between Ellington and Fen Ditton.
The A14 challenge is part of the longer term study and encourages participation in the solutions process both from those affected by and those that can help deliver solutions. Cambridgeshire County Council and the DfT are jointly managing this.
An earlier £1.2 billion proposal was withdrawn on affordability grounds, and now options to toll additional capacity on an improved A14 are likely to be looked at, as will road capacity enhancement, public transport provision, freight alternatives, information, and improved resilience to incidents. Tolling an unimproved A14 has been ruled out.
Views from the A14 challenge will be received by DfT until the end of January. After that contributors of particular merit may be asked to work with the department's consultants in finalising and testing options. The study will report in summer 2012.
Any schemes that resulted would be subject to the normal procedures, including formal consultation.
Published 12 December 2011