News story
A watchful eye on UK sea and airspace
HMS Dragon and RAF Typhoons have been in contact with their Russian counterparts this week.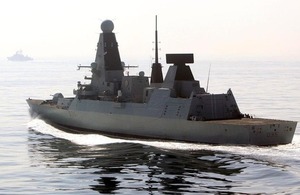 The Royal Navy's fleet ready escort tracked and met up with the Russian destroyer Vice Admiral Kulakov as it transited past the UK.
HMS Dragon, a Type 45 destroyer, pinpointed and monitored the movement of the Russian vessel as she approached British waters in a well-established and standard response to such events.
Dragon deployed from Portsmouth last week to pre-position well north of Scotland in good time to respond to the Udaloy Class destroyer's deployment. She made contact with the Kulakov and is now keeping an eye on the Russian ship's transit south.
The commanding officer of HMS Dragon, Captain Iain Lower, said:
For a mission like this, it is not about sending any ship; we need speed, we need endurance, and, as the weather can be atrocious, sea-keeping is all-important.

The Russian Navy is a very capable force and it is right that the Royal Navy sends a ship that is credible, and none are more so than the Type 45 destroyer. With the world's best air defence radars, Dragon's sensors are able to monitor UK airspace and sea lanes of communication at very long range.
In the air
The Royal Air Force was also involved recently with its Russian counterparts when RAF Typhoon Quick Reaction Alert (QRA) aircraft were launched from RAF Leuchars to determine the identity of unknown aircraft that were approaching the Nato air policing area north of Scotland.
The aircraft were identified as Russian military aircraft carrying out a routine training sortie in international airspace.
RAF QRA aircraft are launched to intercept unidentified aircraft when they cannot be identified by any other means. This means that the aircraft is not talking to civilian or military air traffic control, has not filed a flight plan, and is not transmitting a recognisable secondary surveillance radar code.
The Typhoon mission was a routine part of the RAF's air defence role protecting the UK and its airspace. High readiness RAF fighter aircraft are available around the clock, 365-days-a-year, and can be scrambled to identify and intercept any unidentified aircraft approaching our shores.
Published 24 April 2014