RAF's Quick Reaction Alert revealed
In an interview with Steve Willmot, Flight Lieutenant Noel Rees of 29 (Reserve) Squadron explains how the RAF's Quick Reaction Alert continues to defend British airspace seamlessly, day and night, in a way that has changed little in more than 70 years.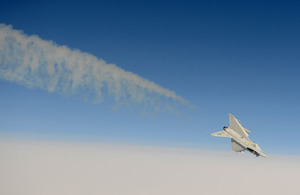 Flt Lt Rees is a Typhoon pilot based at RAF Coningsby in Lincolnshire. The station is one of two that defend the skies over Britain. The other station is RAF Leuchars in Fife, Scotland. Both provide Quick Reaction Alert, or QRA, and scramble their fighter jets within minutes to meet or intercept aircraft which give cause for concern.
Leuchars generally covers the northern sector, while Coningsby provides QRA in the south, which includes looking after London and events such as the Olympics. Southern QRA transferred temporarily to RAF Northolt in West London during the Games to add to the mix of military assets ensuring their safety.
Flt Lt Rees explained:
The RAF has been doing this ever since the Battle of Britain in 1940, when the likes of Douglas Bader intercepted the Luftwaffe aircraft determined to defeat the Spitfire and Hurricanes of Fighter Command and bring the country to its knees.
The pilots' day starts early in the Aircrew Ready Room in a small building between the 'Q-sheds' as they are affectionately known in deference to an earlier Cold War age, where single-seat Typhoons sit poised for instant action.
Flt Lt Rees said:
Typhoon pilots do 'Q' as we sometimes refer to it, between once and twice a month. It's a 24-hour shift and most of our time, if not all of it, is spent on the ground waiting for a scramble. Theoretically there's plenty of free time if it's quiet, but there's a lot of reading, study, preparing of aircraft and other things that keep you busy.
At the start of the scaled QRA response, civilian air traffic controllers might see on their screens an aircraft behaving erratically, not responding to their radio calls, or note that it's transmitting a distress signal through its transponder.
Rather than scramble Typhoons at the first hint of something abnormal, a controller has the option to put them on a higher level of alert, 'a call to cockpit'. In this scenario the pilot races to the hardened aircraft shelter and does everything short of starting his engines. From this posture a controller can monitor a situation knowing that a scramble can be conducted in moments.
I feel honoured to be following in the steps of Battle of Britain pilots like Douglas Bader. He was one of my boyhood heroes; I grew up thinking he defended Britain's skies single-handedly.
When comparing our role now to that of the pilots in 1940, there are of course changes brought about by the advance of technology; modern radar surveillance is integrated across Europe and has a coverage that Air Chief Marshal Lord Dowding would have desperately wanted in the Battle of Britain.
The Typhoon of today has a performance and capability only dreamt possible in 1940. Ultimately though, the fundamental principles of air defence are unchanged and remain at the heart of the nation's defence.
Published 20 September 2012