A view from Libya: "a great sense of optimism"
Foreign Secretary William Hague talked of a "great sense of optimism" among Libyans in Benghazi in his update to Parliament on the Middle East and North Africa.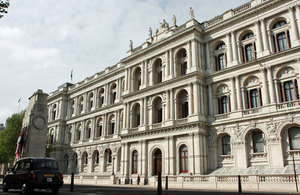 In his visit to Libya last week for talks with the National Transitional Council the Foreign Secretary said that Benghazi is functioning well under the circumstances:
"…police visible on the streets, many shops and restaurants open and food staples in good supply. We also noted a dramatic expansion of civil society groups who rightly see themselves as one of the key building blocks of a free Libya."
The Foreign Secretary talked of steps taken to intensify the military, economic and diplomatic pressure on the Qadhafi regime:
"We have increased the tempo of air strikes against regime forces. These are currently taking place at a rate of approximately 50 strike missions per day, and include the targeting of military command and control sites in Tripoli, regime tanks, artillery, rocket launchers and armoured fighting vehicles."
He went on to say that the Qadhafi regime is "isolated and on the defensive":
"Last week a number of senior military officers abandoned it, including five generals. The Head of the National Oil Corporation also recently fled Libya. On 17 May, ARABSAT joined European satellite companies in suspending Libyan State TV broadcasts, a significant blow to Qadhafi's ability to carry out psychological warfare, and we press all satellite companies to take similar action."
On Syria the Foreign Secretary said "President Assad is losing legitimacy and should "reform or step aside":
"Britain has circulated a draft UN Security Council Resolution condemning the repression in Syria and calling for the Syrian Government to meet their people's legitimate demands, release all prisoners of conscience, lift restrictions on the media and Internet and co-operate with the UN High Commissioner for Human Rights"
He said that the situation in Yemen is extremely uncertain following President Saleh's departure to Saudi Arabia to receive medical treatment.
"It is of the utmost importance that all British nationals leave the country immediately by commercial means while it is still possible to do so, as we have advised them to do since 12 March. I warn again that it will be extremely unlikely that the British Government will be able to evacuate British nationals from Yemen."
On Bahrain the Foreign Secretary said:
"I welcome the lifting of the State of National Safety on 1 June and the announcement by The King of Bahrain that a comprehensive and inclusive National Dialogue will start on 1 July. Urgent dialogue on genuine political reform is the only way to address the legitimate concerns of the Bahraini people and ensure long-term stability."
Talking about the Middle East Peace Process the Foreign Secretary said that the Arab Spring underlines the importance of a breakthrough:
"This long standing conflict needs to be resolved, through negotiations, to give the Palestinian people the state that they need and deserve and the Israeli people long term security and peace. The status quo is not sustainable, nor will these populations be immune from the effects of change and instability elsewhere."
"The new Palestinian Authority should be composed of independent figures on the basis that President Abbas set out on 4 May. As was the case with the outgoing Authority, it should uphold the principle of non-violence, be committed to a negotiated two-state solution, and accept previous agreements of the PLO. Hamas will remain a proscribed terrorist organisation unless and until they abandon violence and commit to a two state solution."
"The UK will judge a future Palestinian government by its actions and its readiness to work for peace."
Published 17 June 2011