Business Secretary Vince Cable and Skills Minister John Hayes have today launched the Government's strategy for skills and reform of the further education and skills system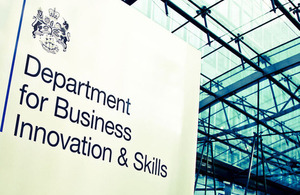 The strategy sets out the Government's vision for reform of the further education and skills system in order to improve the skills of the workforce, the performance of the economy and engagement in learning.
Launching the strategy, Dr. Cable said;
"If we are to achieve sustainable growth, nothing is more important than addressing current failings in skills training, and this strategy reflects this Government's determination to do both.
"We are not in a position to throw money at the problem, but even against the backdrop of reductions, resource will be found to expand the apprenticeship programme for adults and support more people undertaking an increasingly respected form of vocational training."
Read Dr.Cable's speech on the further education sector and the skills strategy, at the Association of Colleges in Birmingham today
Skills for sustainable growth
The reform of the skills systems includes:
Expanding the numbers of adult apprenticeships available, so by 2014-15 there will be 75,000 more adults starting than under the previous Government's plans; 200,000 adults will be able to start an apprenticeship. £605 million will be invested in adult apprenticeships in the 2011-12 financial year.
Fully funding training for young adults aged from 19 up to 24 undertaking their first full level 2 (GCSE equivalent) or first level 3 qualification when they do not already have one.
Fully funding basic skills courses for individuals who left school without basic reading, writing and mathematics.
Introducing Government-backed loans from 2013-14 for learners aged 24 and over undertaking level 3 or higher qualifications.
Initiating a demand-led growth and innovation fund of up to £50 million of government investment a year, to support employer-led initiatives within sectors.
Replacing Train to Gain with an SME focused offer to help small employers train low-skilled staff.
Helping people who are on active job-seeking benefits to secure work through labour-market relevant training.
An investment strategy for further education and skills, Investing in Skills for Sustainable Growth, will be published later today.
Links
Published 16 November 2010