A new partnership between the UK and Libya
Minister for the Middle East and North Africa Alistair Burt completed a three day visit to Libya on 8 December. The first visit by a UK Minister since the formation of the new Libyan Government.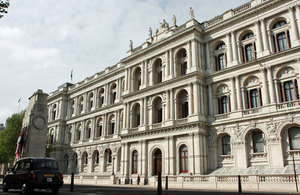 During his visit he met the Libyan Foreign and Interior Ministers and discussed with them a new partnership for the UK and Libya that will build on the UK's solidarity with the Libyan people over the past ten months. The UK and Libyan governments will look for practical ways to work together towards a future which sees a free and prosperous Libya playing a full role in the international community.
To that end, Mr Burt was delighted to be able to re-launch the British Council in Libya. Staff are now back at work, many technical skills and training programmes are already underway, and English language teaching will resume in March. The FCO's prestigious Chevening scholarship programme is open for applications and the Embassy will open a limited visa service again soon which will allow high level Libyan representatives to travel to the UK. It is hoped that this service will widen in the new year.
On 7 December, the Minister visited the ruins of the notorious Abu Saleem prison in Tripoli where more than 1,200 political prisoners are reported to have been summarily executed by the Qadhafi regime in 1996. Human rights activist Dr Guim al-Tagher, who was held for seven years in the prison in the 1990's, gave the Minister's party a moving tour. Mr Burt remarked "Abu Saleem is reminder of the horrors of the Qadhafi regime. The UK sadly shares that legacy with the death of WPC Fletcher, the Lockerbie tragedy and the people that died in Northern Ireland because of the transfer of Semtex from Libya. We have an opportunity to move forward together."
Mr Burt raised the UK police investigations into Lockerbie and the killing of PC Fletcher with both the Interior and Foreign Minister. Helping the relevant police services take forward these investigations is a priority for the British government. The Libyan Ministers acknowledged the importance of these issues and Mr Burt said he was "very confident" the Libyans would allow the Police to visit soon, although no date has been set.
Before he left Libya Mr Burt was able to drop by the Suq al-Juma'a neighbourhood revival project support by one of the member's of the Embassy's local staff. In recent months young men and women in the neighbourhood have sought to 'start afresh' with their own community and have worked to build garden at their local community centre. They also ran a competition to design murals to capture the spirit of the new era and these pictures have become a city landmark. Mr Burt said "these young people have shown how a community is free to pull together in the new Libya".
Published 8 December 2011