A million more trees by 2015: Defra pledge on track
One year since its pledge was launched and the Government is already on target to plant one million new trees across England in four years.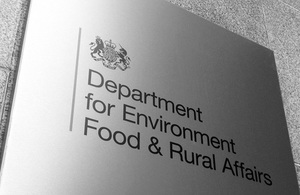 To mark the first anniversary of the Big Tree Plant, Agriculture and Forestry Minister Jim Paice took part in a tree planting event at Maiden Lane Estate, Camden, today. 
He joined local residents and the London Wildlife Trust, who were awarded Big Tree Plant funding, to create a community orchard for the local neighbourhood to enjoy. 
The Big Tree Plant is helping urban communities across England plant trees in areas that need them most. 
Trees in cities not only make a community come to life but can also help fight the effects of air pollution and climate change. They attract wildlife, make an area look more appealing and help create areas in which people enjoy living. 
Speaking about the campaign's success, Jim Paice said: 
"It's only a year since we launched the Big Tree Plant and we are already on target to plant one million trees by April 2015.  
"So many people have got involved, planting new trees in England's urban areas, and creating neighbourhoods to be proud of.  The campaign has already seen over 100,000 trees planted, with another  400,000 pledged to follow." 
Supporting the campaign, President of Civic Voice, Griff Rhys Jones said: 
"Trees are one of the essentials of life. Our streets and public spaces need more trees and Civic Voice is a strong supporter of the Big Tree Plant so communities can green their local area. With the support of the Big Tree Plant we can all get together with civic societies and other community groups to improve the local environment for everyone. Plant a tree and you change the future. The future will thank you for it." 
Through the Big Tree Plant, Defra, the Forestry Commission and a number partners will continue to support community groups and organisations wishing to plant and care for trees in urban areas.  The campaign is supported by grant funding of £4 million, of which there is still £1.96 million left to spend.  People or groups that are interested in planting trees can apply for grant funding to help establish or expand tree planting projects. 
Notes 
Details of the campaign can be found at: http://www.defra.gov.uk/bigtreeplant/.
Details on how community groups can apply for funding can be found at: http://www.forestry.gov.uk/england-bigtreeplant.
The campaign has the support of major bodies, environmental charities and agencies including BTCV, Civic Voice, the Department for Communities and Local Government, Community Forests, Groundwork, Keep Britain Tidy, LGA, National Forest, the Tree Council, Trees for Cities and the Woodland Trust. 
Civic Voice is the national charity for the civic movement.  Their work aims to make the places where we live more attractive, enjoyable and distinctive.    Further information is available at www.civicvoice.org.uk.
Published 1 December 2011