Press release
A landmark one million jobseekers on more rigorous work search regime
Over a million jobseekers have signed up to a Claimant Commitment meaning they need to do more to find work or face losing their benefits.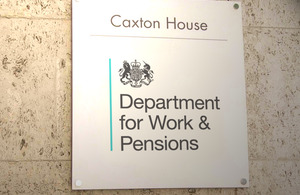 This landmark comes ahead of new employment figures to be released later today (21 January 2015).
As part of the government's long term economic plan to get more people off benefits and into work, this more rigorous regime for job seeking was introduced just over a year ago. Part contract, part personal work plan, the Claimant Commitment makes the consequences of failing to meet expectations clear and sets personal job search goals.
Secretary of State for Work and Pensions, Iain Duncan Smith, said:
This government is committed to ensuring that everyone who is able to work is given the skills and the opportunities to do so. With employment already at record levels, this suggests our approach is working.

It is only right that in return for that support – and in return for their benefits – jobseekers are expected to do all they can to find work. Although on benefits, they still have a job: the job is to get back into work.

The Claimant Commitment, which is deliberately set to mimic a contract of employment, makes this expectation explicit. It has created a real change in attitudes. Already more than a million people have signed up to – and are benefitting from – this new jobseeking regime.
The contract is reviewed regularly to ensure it is a thorough plan for the claimant to secure employment and the financial security of a pay packet.
The Claimant Commitment is one of a number of measures to reform the way people look for work. Universal Credit is making work pay and is providing people with unprecedented support, both in and out of work.
Nina Fossard, a Work Coach at Southport Jobcentre said:
The Claimant Commitment has led to a real change in culture and because the information mainly comes from the claimant, it's personalised to them. The Claimant Commitment has helped people understand better what they're expected to do – it really puts the onus on them to keep active in their job search, so it's something they feel more in control of.
The Claimant Commitment is based on the person's individual circumstances and clearly sets out their responsibilities while job hunting. If a jobseeker does not agree a Claimant Commitment, or stick to it, Jobseeker's Allowance will not be paid.‪‬‬
Universal Jobmatch
Over half a million employers are now registered on Universal Jobmatch, the UK's biggest job search website. Already published figures show that there are over a thousand more people in work each day on average since 2010, with full time employment accounting for 95% of the rise in employment over the last year.
Contact Press Office
Media enquiries for this press release – 0203 267 5112
Press Office
Caxton House
Tothill Street
London
SW1H 9NA
London Press Office (national media and London area enquiries only – not questions about personal claims) 020 3267 5144
Out-of-hours (journalists only) 076 59 108 883
England and Wales (local media enquiries) 029 20 586 then 097 or 098 or 099
Scotland (local media enquiries) 0131 310 1122
Follow DWP on:
Published 21 January 2015