World news story
"A healthy society is one in which all its citizens can play a role in shaping the future of their communities"
Ambassador Edward Ferguson´s statement at the Equal Participation for Women conference in Sarajevo on 12-13 May.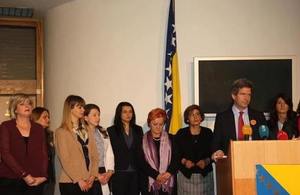 Thank you so much for inviting me to be a part of today's important event. I get many invitations to speak at conferences, but rarely am I invited to speak at an event about which I feel so strongly.
Perhaps that may surprise some people. After all, as some of the sharper-eyed amongst you may have noticed, I am in fact, and inescapably, a man.
But I am also a son, a brother, a husband, a father and a colleague to strong, creative and clever women, and that leaves me in no doubt at all that any society in which women are under-represented is a society that is unbalanced and ineffectual.
So I may be a man, but I'm a feminist too. It's the 21st century and I want my daughters, and their friends from Bosnia and Herzegovina, to grow up with an intuitive confidence that they will have exactly the same opportunity to shine as my son. The chance of a great job and a fair salary. The right to live their lives with dignity, and without the fear of violence. I don't think that's at all unreasonable.
I was thrilled last year to see the powerful impact that the UN's #HeForShe campaign had around the world. I thought it captured brilliantly the frustrations that many of us feel when we look around a room filled with grey-haired old men and hear the same, tired old lines on issues like the economy, health or education, where a more diverse group, with the different experiences and perspective they bring, could inject so many new ideas and so much more energy.
Let me be clear about something. This isn't just about BiH. We all need to do better. Some of you may have been at the Europe Day celebrations at the Vijecnica last week. I personally found it really depressing to look at the EU Ambassadors lined up behind the EU Special Representative, and to notice that just one was a woman. Vive la France!
But when I say that it would be great to see more women in Ministerial positions and party leadership roles, running companies or shaping the news, commanding the Armed Forces and police, in NGOs and youth groups, I'm not saying it to be kind or altruistic or politically correct. I'm not even saying it because I believe in equal human rights for all. I'm saying it because it would make this country, and all our countries, better.
I have been lucky enough to meet lots and lots of really impressive women since I arrived in this country two years ago, including through our Embassy Fellowship Programme in which a number of people in this room have taken part. Given a chance, they could transform the political and economic fortunes of this country.
But let me say something a bit controversial, and I'd be delighted if you disagree with me. To me, BiH still feels like a man's world. What I have heard from many women including, and in fact particularly, from those in senior roles, is that they feel pressure to behave like men.
How sad! Because the reason that UN Security Council Resolution 1325 has encouraged the representation of women at all decision-making levels in national, regional and international institutions is not because we want more people to think like men.
Quite the opposite. It's because women can bring a different perspective, and that they can play an important role in conflict prevention, resolution and peace-building.
So I think it's great to see how the Women's Caucus is bringing together and combining the individual strengths of its 27 members, women from different ethnic or social backgrounds, and from different political parties, to create a powerful voice for women within the FBiH Parliament.
Because I would argue that what this country needs, like my own, is more women in positions of authority and influence who can really speak as women about the challenges that you are facing.
And so, today, we're focusing on economic security and empowerment.
I think it's a great time to talk about this. Because economic security and empowerment is exactly what the EU has been seeking to achieve in its support for reforms in BiH. This idea was at the heart of the Written Commitment which 14 party leaders signed, and which the State Parliament adopted in February last year. But I am not sure that enough thought has been given to the question of how the Reform Agenda can be used to improve the life chances for women in particular.
This is an issue which the UK is championing at the global level. In March this year, the UK Government supported the UN's first-ever High-Level Panel on Women's Economic Empowerment, together with the World Bank and UN Women. The aim was to produce recommendations that can be taken forward to speed up progress under the 2030 Agenda for Sustainable Development.
This is what our Minister for International Development, Justine Greening said: "Women's economic empowerment is not just about financial independence and basic human rights; it is also a major lever we can use to boost the global economy, because a country cannot successfully develop when half of its population is left behind."
I would argue that this speaks a truth which can easily be applied to BiH. Strong economies need the contribution of everyone – including women. There is growing evidence and recognition by governments and the private sector that women's economic empowerment has a multiplier effect and boosts whole economies. Research shows that women invest their income back into their families and communities, including into health and education.
Yet women continue to earn less, have fewer assets, bear the burden of unpaid work and care and be largely concentrated in vulnerable and low-paying activities. Women spend more than twice as much time on unpaid care and domestic work as men, and women on average are paid 24% less than men globally for the same work. Moreover, 75% of women's employment in developing countries is informal and unprotected. These gaps constrain women's rights and hinder economic growth and productivity.
So I hope that, in today's debate, you will be able to put a new focus on how to use the Reform Agenda to promote the economic empowerment of women of all ages, but in particular I would highlight the need to give hope to the younger generation.
A full 62% of your young people are unemployed – one of the highest rates in the world. According to one estimate, some 68,000 left this country last year to find opportunities abroad that they are denied at home. This is completely unsustainable. So there is a heavy responsibility facing you as leaders and Parliamentarians, today and every day, to turn this situation around and to create a brighter future for this country.
You won't be able to do this alone. You need to draw on all the ideas and talents you can find – from government and from opposition, from civil society, from businesses and from young people themselves.
Part of the answer, of course, lies in education. In the UK, we had our first (and last) female Prime Minister back in 1979. But it's interesting that Margaret Thatcher said she was more proud of becoming the first Prime Minister with a science degree than of being the first female Prime Minister.
High quality education can give women the skills and, just as importantly, the confidence to succeed. But your higher education in particular has failed to keep pace with the speed with which the global economy is evolving.
To take just one example, the economy of the future will be as much digital as it is physical. You have a lot of well-educated, multilingual young people, and there are already some fantastic IT companies here which are proving the potential of this exciting sector. But employers tell me that, too often, your education system produces graduates who are stronger on theory than practice.
Radical educational reform could help BiH to get ahead of the global economy, by prioritising practical problem-solving and digital skills. That's how to grab the attention of the many companies who are now looking to re-locate their businesses back from Asia to Europe. It's how to stimulate a new entrepreneurial spirit, which this country desperately needs. And it's how to create new jobs, for men as well as women, that can add real value to the economy rather than acting as a burden upon it.
Ladies and gentlemen, when one thinks of gender equality in Bosnia and Herzegovina, people often talk about quotas - unsurprising in a country which has perhaps more quotas of different kinds than any other. But quotas are just a start; they are not a solution.
What is really needed is a change of mindset.
We all need to understand the value that the different experiences and perspectives of women can bring to policy-making and delivery.
We all need to understand that a healthy society is one in which all its citizens – men or women, young or old, gay or straight – can play a role in shaping the future of their communities.
And we all need to understand that, to compete and survive in the modern global economy, a state needs to use of all of its talent, not just a part of it.
So ladies and gentlemen, as I said at the beginning of my speech, I may be a man, but I'm a feminist too. And I hope that, together, we can work to build a stronger, healthier, and more vibrant and inclusive society, in Bosnia and Herzegovina, in the United Kingdom and around the world.
Thank you very much.