Press release
A Baroque Games Board of Baltic Gold
Possibly the most beautiful games board in the world is at risk of export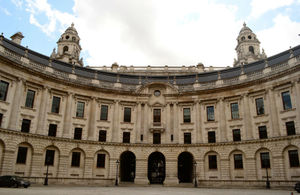 033/13
An extremely rare 17th century games board, exquisitely crafted from amber (sometimes called "Baltic Gold"), ebony, silver and wood, has had a temporary export bar placed on it to provide a last chance to raise the £821,500 needed to keep it in the UK.
Culture Minister Ed Vaizey took the decision to defer granting an export licence for the games board following a recommendation by the Reviewing Committee on the Export of Works of Art and Objects of Cultural Interest (RCEWA), administered by Arts Council England, on the grounds of the board's outstanding aesthetic importance.
The hinged games board is constructed of wood, onto which amber panels have been affixed. Strips of ebony edge the board and silver mounts on mica adorn the corners. The top of the exterior forms a board for the game "Nine Men's Morris", surrounded by small decorative panels in white amber, whilst the underside of the exterior shows a chess board with busts in relief in white amber under translucent amber. When opened, the interior is a backgammon board showing scenes from Ovid's Metamorphoses.
The high quality of this piece, and its variety of sophisticated techniques, as well as the choice of subjects for the reliefs, and some of the inscriptions, strongly suggests it is by the amber artist Georg Schreiber. Active in Prussia in the first half of the seventeenth century, Schreiber is considered to be the first known and documented artist working in amber. Although the games board is unsigned, it is unlikely to have come from another amber workshop, given its similarities with other examples of his work.
Amber, a fossilised resin originating from the Baltic coast, is a notoriously fragile material. Its organic origin makes it subject to changing climatic conditions and it deteriorates easily if stored in an atmosphere which is either too dry or too humid. Very few amber works of art of this calibre are known to survive from the first decade of the seventeenth century, making this example a remarkable treasure.
Culture Minister Ed Vaizey said:
This games board is an exquisite example of amber craftsmanship at its breath-taking best, and it would be wonderful if the extra time granted by the export deferral allows a buyer to come forward and ensure it remains in a UK collection.
RCEWA Chairman Lord Inglewood said:
This is a wonderful and mysterious object which almost certainly holds a number of secrets still to be unlocked.
The decision on the export licence application for the games board will be deferred for a period ending on 8 July 2013 inclusive. This period may be extended until 8 October 2013 inclusive if a serious intention to raise funds to purchase the games board at the recommended price of £821,500 (plus VAT which can be reclaimed by most institutions).
For media information contact: Sam Gough, Media Relations Officer, Arts Council England Tel: 020 7973 5189 or 07872 416679 Email: sam.gough@artscouncil.org.uk
Notes to Editors
Organisations or individuals interested in purchasing the games board should contact RCEWA on 0845 300 6200.

The Reviewing Committee on the Export of Works of Art and Objects of Cultural Interest is an independent body, serviced by Arts Council England, which advises the Secretary of State for Culture, Media and Sport on whether a cultural object, intended for export, is of national importance under specified criteria.

Arts Council England champions, develops and invests in artistic and cultural experiences that enrich people's lives. Between 2010 and 2015, it will invest £1.9billion of public money from government and an estimated £1.1 billion from the National Lottery to help create these experiences for as many people as possible across the country.
Published 9 May 2013