Press release
£95,000 boost for Cleveland fire service's bid to mutualise
Cleveland firefighters' plan to run their brigade as a mutual business will receive £95,000 in backing from the Mutual Support Programme.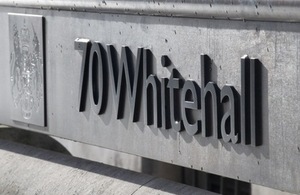 20 September 2012
CAB 100-12 
Cleveland firefighters' plan to take ownership of their brigade and run it as a mutual business will receive £95,000 backing from the £10 million Mutual Support Programme, Minister for the Cabinet Office Francis Maude announced today.
The funding will provide specialist business expertise to move the plan for Britain's first 'John Lewis style' Fire Brigade a step closer to reality. 
As a mutual, Cleveland Fire Brigade will be owned by its employees and will provide fire and rescue services under contract to the local fire authority. Employees will have a high degree of control in how the fire brigade is run, giving them more power over how they do their jobs and the ability to expand their services by bidding for new business. There are already 58 mutuals operating in other services such as health and social care. Evidence shows that giving employees ownership of their service boosts productivity and innovation, meaning better, more efficient public services.
Minister for the Cabinet Office, Francis Maude, said:
If a fire brigade can spin itself out as a mutual business, it shows there are few no-go areas of public service where this innovative approach to delivery cannot reach. Cleveland Fire Brigade is breaking new ground with its plan to become the first mutual fire service in the country, and we want to help them every step of the way. This £95,000 award is great news for their entrepreneurial staff who are taking this bold step, and our £10 million Mutual Support Programme was set up exactly for this reason, to support fledgling mutuals.

This is just the beginning of their journey, and I hope many others, from children's services to probation services, will be inspired to take control of the public services they know best. All the evidence shows that employees who have a stake in their business are more motivated to improve the services they run. This is good news for public sector staff, people who use the services, and the taxpayer.
Ian Hayton, Chief Fire Officer at Cleveland Fire Brigade, said:
We are extremely grateful for this vital support. As firefighters we are tremendously proud of the service we provide to our local community - and we believe by becoming a mutual we will protect and strengthen our ability to keep our community safe. We already use the additional income coming through our social enterprise arm to improve levels of community safety for our local population, and as our plans develop over the next 12-18 months we will continue to drive our service from strength to strength.
Cleveland Fire Brigade was referred to the Mutual Support Programme via the Mutuals Information Service, a dedicated Government hotline which helps developing mutuals overcome barriers to growth.
Employees at Cleveland Fire Brigade have already shown their entrepreneurial drive by setting up a social enterprise which provides fire prevention services to businesses and uses the profits to fund fire prevention work in the community. This has helped contribute to the number of fires in Cleveland falling well below the national average. The social enterprise was further boosted recently by winning a major contract to provide 24-hour emergency cover for INEOS Nitriles, one of Europe's largest industrial manufacturers of plastics, at the company's Seal Sands site. Cleveland is considering spinning out all its in-house services, including the social enterprise arm, into a new mutual.
Notes to editors
1. Following a competitive tender, the contract for providing specialist business support to Cleveland has been awarded to PriceWaterhouse Coopers LLP, in partnership with Baxi Partnership and Capsticks Solicitors.  Cleveland Fire Brigade also receives existing support from Social Purpose Business Partners.
2. The government is supporting public servants who want to form mutuals with a £10 million Mutual Support Programme, the Mutual Information Service website and a dedicated hotline on 0845 5390543. The Mutual Support Programme is helping these organisations to develop by providing the professional expertise and advice that they are unable to access. The money has been used to buy suppliers to deliver the support these fledgling mutuals need, allowing the government to negotiate the best deals and build a valuable knowledge-sharing database. The programme will also allow us to build a strong evidence base of what works and what doesn't for other upcoming mutuals that are coming through the system.
Published 20 September 2012