92,000 2-year-olds already receiving free childcare
Around 92,000 of the most disadvantaged 2-year-olds are now receiving up to 15 hours a week of fully funded childcare.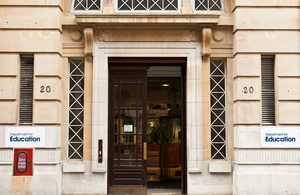 Around 92,000 of the most disadvantaged 2-year-olds are now receiving up to 15 hours a week of fully funded childcare - just weeks after free pre-school education for these children was introduced.
The Deputy Prime Minister, Nick Clegg, and Education and Childcare Minister, Elizabeth Truss, welcomed today's figures which show that after just 1 month of this year's scheme being launched, an estimated 70% of the identified 130,000 children are already benefitting from the scheme - a huge increase on the 20,000 children accessing free early education in 2010.
Evidence shows that 2-year-olds in good and outstanding places - including nurseries, school nursery classes, and childminders - see real benefits in terms of their early language skills, and physical, social and emotional development. Parents can also be confident in the knowledge that their children are receiving high quality care which will benefit them in later life.
Yet access to early education remains unequal, with children from low income families far less likely to receive high-quality learning despite research showing that they stand to benefit the most.
The government wants to see more eligible 2-year-olds in high-quality early education, and has committed to providing funding for 130,000 2-year-olds to access free places from September this year - increasing to 260,000 from next September. This offer is backed up by over half a billion pounds of government funding this year, rising to £760 million in 2014 to 2015.
Elizabeth Truss has called on local authorities to pass on the money in full to good and outstanding providers so that as many children as possible are able to access places, and to ensure that high quality staff are recruited and retained - particularly in the most deprived communities.
Deputy Prime Minister Nick Clegg said:
A child's future can too often be decided even before they hang their coat on a peg on the first day of primary school.

Early access to high-quality childcare is vitally important to ensure children are ready for school, ready for the world and able to get a good start in life.

Giving disadvantaged children early support gives them the best possible chance to succeed, it means they're less likely to fall behind their wealthier classmates and it can make a huge impact on their future. It is vital for a fair and prosperous society.

This funding has meant that just 1 month in, 92,000 eligible 2-year-olds are already benefitting from support and learning that can help shape their future.
Education and Childcare Minister Elizabeth Truss said:
We know that high-quality early education can make a positive contribution to a child's future success, especially those from disadvantaged backgrounds. After just 4 weeks, it is fantastic to see that 92,000 2-year-olds are now benefitting from these places.

Research shows that a third of children are starting school without basic language and communication skills. In poorer areas, this rises to more than a half. Good quality teacher-led early years education helps children develop the social skills and vocabulary they need for learning, and as Baroness Morgan has pointed out, school nurseries can offer these places as well as childminders and nurseries.
In future, funding to councils will be based on a 'use it or lose it' basis. The number of participating children will determine the amount of funding they get. Where parents are not taking up these places, local authorities will get less money.
Parents are able to check whether their child is eligible by contacting their local authority, provider or children's centre. Ofsted has also developed an online tool which allows parents and providers to compare how many good and outstanding providers there are in each local area. In addition, parents and providers will know whether the full allocations have been passed on as the department will publish details of local authority spend on its website.
Notes to editor
Details of the funding breakdown for the 2-year-old early education programme for lower income households in 2013 to 2014.
There is strong evidence that early education makes a positive difference to young children. The 'Effective provision of pre-school education' study found that high-quality early education has particularly strong impacts on the cognitive and social development of disadvantaged children, and that these benefits last throughout primary school. The 'Early education pilot for 2-year-old children evaluation' also found that only higher quality providers made an impact on children's development in the pilot.
See Ofsted's tool which allows parents and providers to see good and outstanding nurseries and childminders in their area.
The programme to provide fully-funded early education to 130,000 of the most disadvantaged children was officially launched on 1 September 2013. The figures published today were collected just a month after introduction of the programme. The number of children eligible for a funded place will double to around 260,000 from 1 September 2014.
DfE enquiries
Central newsdesk - for journalists 020 7783 8300
General enquiries - for members of the public 0370 000 2288
Published 11 November 2013