£7600 to make your home more energy efficient
Households carrying out energy efficiency improvements on their home can now get more money back to offset the cost of having the work done.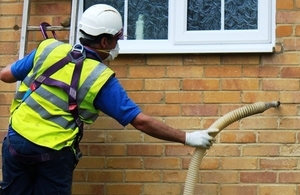 Update 24 July 2014
Applications to the Green Deal Home Improvement Fund have closed. Press notice.
Households carrying out energy efficiency improvements on their home can now get more money back to offset the cost of having the work done.
From June, people in England and Wales will be able to get up to £7600 back through a new Green Deal Home Improvement Fund so they can take control of their bills and have warmer, greener homes.
The scheme helps people to install energy efficiency measures such as solid wall insulation and new heating systems by providing them with money back on the contributions they make towards improvements.
It opens up the market for smaller businesses in the energy efficiency sector, competing in new and innovative ways and providing further opportunities for jobs and growth.
Green Deal Installers and Providers should register with the scheme now.
Energy and Climate Change Secretary Ed Davey said:
"The best way for households to take control of their energy bills is to use less energy.
"Faulty boilers, draughty windows and insufficient insulation all cause properties to leak hundreds of pounds every year. But advice and support through the Green Deal can help put a stop to this.
"By installing energy saving improvements, families across the country can enjoy the benefits of warmer, more energy efficient homes and lower bills."
The average annual bill saving from installing major measures such as solid wall insulation in a three-bed semi-detached house is £270, while savings from other measures such as upgrading a boiler can knock around £100 off a customer's bill.
Under the new incentive scheme, which is available from June, domestic energy customers can get:
up to £1000 for installing two measures from an approved list; and/or
up to £6000 for installing solid wall insulation; and
up to £100 refunded for their Green Deal Assessment.
The scheme also entitles those who have bought a property in the 12 months prior to application to qualify for up to an additional £500 if they carry out energy efficiency improvements.
In December the government announced a £540 million three year energy efficiency package to make Britain's homes and public buildings more energy efficient.
Climate Change Minister Greg Barker said:
"The Green Deal Home Improvement Fund is another way the Government is making it simpler and cheaper for people to stay warm and improve their homes.
"I want households across the country to benefit from more energy efficient homes and reduced bills through the Green Deal, and that is what the new home incentive fund will do."
The Green Deal Home Improvement Fund also applies to private or social landlords, who can benefit if they undertake to improve the property and are paying the costs themselves.
Notes to editors
1.The Green Deal Home Improvement Fund (GDHIF) will be available to householders in England & Wales from June 2014.
2.Householders will be able to receive GDHIF funding for solid wall insulation and/or any two of the following energy savings improvements:
Condensing gas boiler (on mains gas)
Double glazing (replacing single glazing)
Secondary glazing
Replacement doors
Cavity wall insulation
Floor insulation
Flat roof insulation
Room-in-roof insulation
Replacement warm air unit
Replacement storage heaters
Flue gas heat recovery units
Waste water heat recovery systems
3.For solid wall insulation 75% of the costs of installation up to a maximum of £6,000 can be claimed back by the customer. For the 'two measures' option 100% of the costs of installation to a maximum of £1,000 may be claimed back; for homemovers this maximum is £1500.
4.To be eligible, a customer must have the improvements recommended on an eligible Energy Performance Certificate (EPC), less than 24 months old, or a Green Deal Advice Report. Households cannot combine GDHIF with funding from the Energy Company Obligation (ECO), the Green Deal Communities Scheme or the existing Cashback scheme for the same installation. However, households having previously benefited from ECO or Green Deal Cashback may apply for GDHIF for further improvements provided an EPC or Green Deal Advice Report recommends them.
5.Householders must take the following steps to apply for and claim their GDHIF payment:
have a valid Green Deal Assessment Report or EPC which must have been carried out in the two years prior to application;
apply for measures as recommended on their assessment report or EPC;
register for their GDHIF voucher when the application website and telephone hotline number go live in early June;
once they have received their voucher, customers must have the improvements installed by a registered Green Deal Installer or Provider within six months;
once the work has been completed, submit their voucher – countersigned by the Green Deal Installer or Provider – with copies of the invoice, PAS2030 Claim(s) of Conformity, and their Green Deal Assessment Report invoice.
Once the GDHIF administrator has validated the voucher, customers will receive payment in ten working days if all documentation is submitted correctly.
6.Rates published today are guaranteed for the first £50 million, and up to £120 million is available this financial year, using funds announced in December 2013. The incentive rates and the design of the scheme will be subject to review for future funding phases.
7.GDHIF is designed to work alongside Green Deal finance and householders may consider the Green Deal finance option to help fund some of the cost of the installation, but they will not be required to do so in order to qualify for the Green Deal Home Improvement Fund.
8.Landlords and tenants can apply for the scheme provided they are paying for the improvements themselves. Landlords are subject to de minimis thresholds for State Aid: they can't have received more than €200,000 (approximately £160,000) of government funding in the last three financial years. Applications from a landlord will be checked against a running total of state aid payments and state aid benefits that the landlord has received to date.
9.Green Deal authorised installers and providers only may register to deliver the scheme. This is to maintain the Green Deal's high standards of consumer protection. Registration with the scheme is now open. Questions about the registration process should go to the GDHIF Administrator.
10.The Green Deal Home Improvement Fund will open to customers in early June. Until then households in England and Wales can get advice on how to reduce their bills and make their homes more energy efficient from the Energy Saving Advice Service (ESAS) on 0300 123 1234 (calls charged at national rates).
11.The Green Deal Cashback Scheme remains open until 30 June. Applications pending for that scheme may be eligible to benefit from the new rates under GDHIF. Applicants who think they may be affected should contact the Green Deal Cashback administrator by email or telephone: 0300 555 0201.
12.A separate scheme will apply in Scotland. Scottish households seeking home energy efficiency advice should contact Home Energy Scotland on 0808 808 2282.
13.For more about the Green Deal and related initiatives see GOV.UK website or check out the Quick Guides.
14.Information about authorised Green Deal providers and installers can be found on the Green Deal Oversight Body website
Published 1 May 2014