£71 million to end the legacy of England's 'ghost streets'
Housing Minister Grant Shapps today announced the allocation of more than £71 million to help families trapped in half-empty and abandoned streets…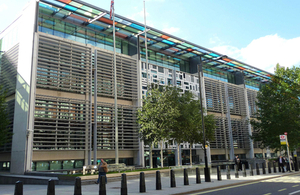 Housing Minister Grant Shapps today announced the allocation of more than £71 million to help families trapped in half-empty and abandoned streets, as a consequence of a controversial regeneration scheme introduced in 2002.
A new fund will help tackle the 'ghost streets' across the Midlands and the north of England left by the Housing Market Renewal Pathfinder programme. Introduced in 2002, the Whitehall programme led to the demolition and clearance of dilapidated streets across the country - but left thousands of families trapped in unsellable homes.
Visiting a former Housing Market Renewal area in Stoke, Mr Shapps announced that thirteen projects in the worst hit areas - Merseyside, East Lancashire, North Staffordshire, Hull and Teesside - will receive a cash injection to help their local communities.
These areas originally bid for a share of a £30 million fund that they would then match - but the minister said that an extra £5.5 million had been added to ensure that every street or block with more than half its properties lying vacant would feel the benefit. Ministers have abolished the central targets for demolition, and want local communities rather than Whitehall to have the final say on how to promote regeneration.
The money is being provided on the basis of pound-for-pound matching locally. Combining Government investment with local cash this will mean:
£7.2 million for Stoke-on-Trent areas, encompassing North Shelton, Etruria Valley and Fegg Hayes
£18.6 million for Easby, Wavertree, Anfield and Breckfield in Liverpool
£6.6 million for Ings, Newington and St Andrews in Hull
£4 million for St Hildas and Gresham in Middlesbrough
£4.6million for East and West Accrington in Hyndburn.
In addition to ending the Whitehall-imposed targets for demolishing homes, Ministers are taking a series of steps to get empty homes back into beneficial use, as outlined in the Government's Housing Strategy published on Monday 21 November 2011.
Housing Minister Grant Shapps said:
Under the previous controversial scheme, local communities in some of the most deprived areas of the country were told they would see a transformation of their areas. But in reality, this amounted to bulldozing buildings and knocking down neighbourhoods, pitting neighbour against neighbour, demolishing our Victorian heritage and leaving families trapped in abandoned streets. This programme was a failure and an abject lesson to policy makers.

The families in these half-empty ghost streets should not be left desperately hoping for someone to reorder the rubble. That's why I've been able to boost the cash we're committing to more than £35 million - matched by councils to bring the total to £71 million - to help councils and residents move on from this difficult past and can start realising the potential of their area.
Notes to editors
1. A full list of project allocations is below:
2. Allocations were calculated on the basis of criteria set out in the bidding guidance, which specifically asked authorities to identify those streets/blocks which were more than 50 per cent vacant. Local Authorities were also required to set out robust exit strategies from the HMR programme including plans for taking forward refurbishment options.
3. For full detail of individual exit strategies please contact the relevant local council.
Twitter
Keep up to date with the Department by following us on Twitter (external link).
Media enquiries
Visit our newsroom contacts page for media enquiry contact details.
Published 24 November 2011