Press release
7 ways Universal Credit will be a better deal
New figures show 4,280 people started claiming Universal Credit by the end of 2013 – as the national roll-out of the new benefit continues.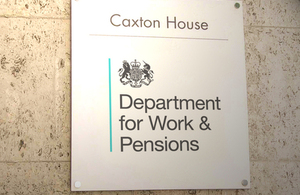 Nine sites across Britain are now taking claims to Universal Credit from new single jobseekers, and the new benefit will be extended to Shotton in Wales from Monday 7 April 2014.
Universal Credit is a vital reform that replaces 6 existing benefits with a single monthly payment. It is designed to simplify the benefits system and make work pay, as part of the government's long-term economic plan.
Universal Credit will:
Strengthen the welfare safety net
The new benefit will make around 3 million households better off by £177 a month on average and lift 300,000 children out of poverty.
Help families with childcare
Around 500,000 working families will receive childcare help and will get more out of the money they earn. From 2016 all families claiming Universal Credit will receive childcare support up to 85% of their actual costs.
Provide greater incentives to find a job
Around 300,000 people overall are expected to move into work following the introduction of Universal Credit. Already Universal Credit claimants do more to look for jobs than jobseekers claiming under the current system, spending twice as many hours in a week looking for work.
Make it simpler to earn more money
Claimants will get more money in their pockets for each extra hour they work, being £35 better off for every extra £100 of earnings.
Help people get closer to the workplace
Benefits are paid monthly rather than fortnightly under this new system because most people with jobs are paid this way. This change eases the transition into work and breaking a major barrier that jobseekers may face.
Help tackle child poverty
By providing extra support for childcare costs and helping parents move into work and earn more, Universal Credit will improve the lives of some of the poorest families in our communities. Children in workless families are around 3 times more likely to be in poverty than those in working families and Universal Credit will provide a clear route into work.
Boost the economy
Overall Universal Credit will see a benefit of £35 billion to the economy.
Universal Credit helps to make work pay by topping up earnings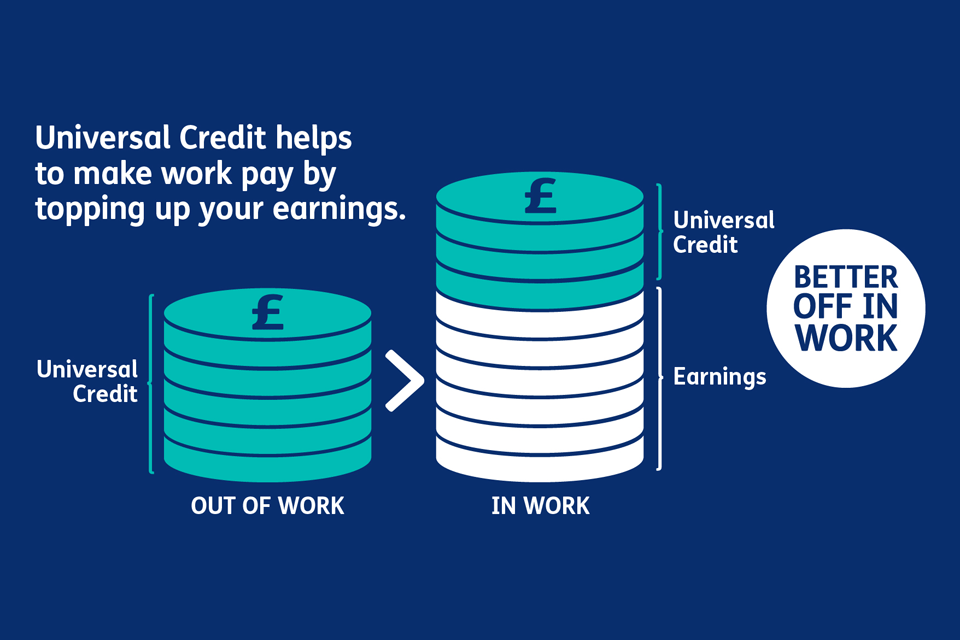 Minister for Welfare Reform, Lord Freud, said:
Universal Credit is bringing about a cultural transformation that will break the cycle of benefit dependency and poverty that has become entrenched in the existing welfare system.

As part of the government's long-term economic plan, Universal Credit will encourage people to move into work and off benefits, while guaranteeing that a strong welfare safety net is in place for those in need.

This is a big part of our transformation of welfare which will actively help hard working families. We will continue to expand the roll-out of this new benefit system that will make millions of people better off and secure a better future for Britain.
From this summer, Universal Credit will start to extend to couples and then to families, as well as expanding to more Jobcentres in the north west of England.
More about Universal Credit
Universal Credit is a vital welfare reform that merges 6 benefits into 1. It will eventually replace income-based Jobseeker's Allowance, income-related Employment and Support Allowance, Income Support, Working Tax Credit, Child Tax Credit and Housing Benefit.
The figures showing the number of people who made a claim to Universal Credit from April 2013 to December 2013 in the initial pathfinder areas, Ashton-under-Lyne, Oldham, Warrington and Wigan, and Hammersmith, Rugby and Inverness can be found in the Universal Credit statistics: Apr 2013 to 31 Dec 2013 or on DWP Stat-Xplore.
The numbers of people claiming Universal Credit will increase as the progressive roll-out of the new benefit continues:
Hammersmith began taking claims to Universal Credit in October

Rugby and Inverness began taking claims in November

Bath and Harrogate introduced the new benefit in February
Meanwhile, Shotton will begin to take claims on Monday 7 April.
Contact Press Office
Media enquiries for this press release – 020 3267 5123
Press Office
Caxton House
Tothill Street
London
SW1H 9NA
London Press Office (national media and London area enquiries only – not questions about personal claims) 020 3267 5144
Out-of-hours (journalists only) 076 59 108 883
England and Wales (local media enquiries) 029 20 586 then 097 or 098 or 099
Scotland (local media enquiries) 0131 310 1122
Follow DWP on:
Published 20 March 2014