News story
NHS 65th anniversary: David Cameron celebrates "this great national treasure"
Prime Minister David Cameron celebrates "this great national treasure" as the National Health Service (NHS) celebrates its 65th anniversary.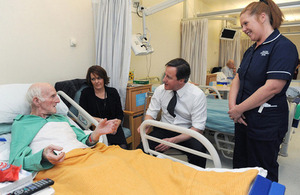 To mark the occasion, the Prime Minister said:
Our National Health Service is one of the most precious institutions we have. We all know it, because all of us have been touched by it. I will never forget the care my son Ivan received and the inspirational people who helped Sam and me through some of the most difficult times. The consultants, the community nurses, the care team - every one of them became part of our lives. When you have experienced support and dedicated professional care like that, you know just how incredibly special the NHS is.
The Prime Minister and Health Secretary today set out plans to make the NHS a more personal service for vulnerable and elderly patients. Older people with complicated health needs will have a named clinician responsible for them at all times when they are out of hospital, whether they are at home or in a care home. This will mean every element of their treatment is personalised and tailored around their individual needs.
Today also sees the launch of Genomics England, a new organisation tasked with radically improving our understanding of disease and designing treatments better tailored to individual patients.
Find out more about these announcements from the Department of Health.
Published 5 July 2013