Press release
£6.8 million to benefit patients through charities
Seventy four charities including the Motor Neurone Disease Association, Epilepsy Society and the Spinal Injuries Association will get a share…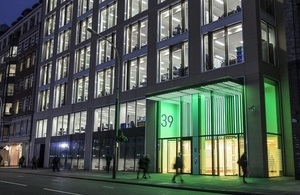 Seventy four charities including the Motor Neurone Disease Association, Epilepsy Society and the Spinal Injuries Association will get a share of more than £6.8 million to test and develop innovative approaches to improve health and wellbeing, Care Services Minister Paul Burstow announced today.
The charities submitted funding bids to the Department of Health setting out how they could help their communities by improving care for thousands of vulnerable people.
The winning bids include:
The Epilepsy Society will use its nearly £300,000 grant to promote early interventions for people with epilepsy in hard-to-reach groups.

The Motor Neurone Disease Association will develop its wheelchair provision into a national service delivering choice to patients using its just over half a million pound grant.

Maternity Action will help support women and their employers to breastfeed on their return to work after maternity leave, they have won just over £68,000 of the grant.

The Disabled Living Foundation will provide an online library of small electronic aids allowing individuals and their carers to try before they buy and give feedback to people in similar positions. They have won just under £200,350.

The Spinal Injuries Association have won nearly £43,500 to help educate health professionals how to avoid preventable conditions such as pressure sores and urinary infections.
To celebrate this grant funding, Care Services Minister Paul Burstow held a round table with members of charities including the Royal National Institute of Blind People, Cool2Care and the Council for Disabled Children.
Paul Burstow said
"This new funding will improve the lives of thousands of people across the England, helping them to lead healthier and more independent lives. It is crucial that we continue to champion our voluntary organisations, because their expertise allows them to design and develop innovative solutions to the big challenges we face in health, public health and social care.
"These exciting projects are more than worthy of our support and I am delighted that the money will be spent on providing individuals and local communities with the tools to tackle health and wellbeing."
The Minister also presented Cool2Care with a Big Society Award. Cool2Care is a charity group which aims to help support disabled children. It offers a range of support including helping to recruit fully screened and trained Personal Assistants who will support the child's needs.   The charity was set up in 2007 by Phil Conway who saw how hard it was to hire a personal assistant that was specific to his disabled child and his families needs. The personal assistants help to encourage life skills to increase emotional wellbeing, develop new skills and relationships and give parents a much needed break.
The Big Society Awards were set up by the Prime Minister in 2010 to congratulate individuals and organisations across the UK that demonstrate a Big Society in their work or activities.
ENDS
Notes to Editors:
For media enquiries contact the Department of Health news desk on 020 7210 5221

The money comes from the Department's Innovation, Excellence and Strategic Development (IESD) fund.

The Big Society Awards were set up by the Prime Minister in November 2010. The aim is to acknowledge individuals and organisations across the UK that demonstrate the Big Society in their work or activities. In so doing, the aim is also to galvanise others to follow. For more information visit the Number 10 website.
Published 14 March 2012