£54 million for intensive classes for pupils who have fallen behind in literacy and maths
Details of the catch-up premium, intended to help year 7 pupils who didn't reach level 4 in literacy and maths at the end of primary school.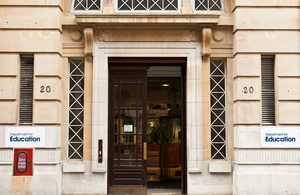 Secondary state schools in England will today (Thursday) receive £500 per pupil to help every year 7 pupil who did not reach the expected level in literacy and maths when they finished primary school.
The 'catch-up premium' will provide intensive tuition for almost 110,000 pupils who have failed to reach the expected level of literacy and maths skills by the time they move to secondary school.
Figures from the Department for Education show that only 5% of pupils who did not manage to get Level 4 in both English and maths at key stage 2 went on to achieve 5 GCSEs at A* to C, including English and maths.
In order to help these children catch up and strive for better GCSEs, they will receive additional help through either individual tuition or intensive support in small groups.
The extra support is designed to help bring pupils up to speed so they are more likely to succeed at secondary school, rather than falling further behind. By catching up with their classmates, pupils' motivation will also be boosted, in turn preventing disruptive behaviour that impedes learning for others.
The catch-up premium funding for this academic year (2012 to 2013) will be £54.5 million, and schools will hear today how much they are set to receive.
Deputy Prime Minister Nick Clegg said:
The consequences for a pupil being left behind in the basics when they start secondary school can last for the rest of their education.

The catch-up premium money being handed out to schools today will help pupils catch up with their peers as quickly as possible. Every child should have the chance to succeed and get off on the right foot when they start their new school.
Schools Minister David Laws said:
It is vital that every child has a strong grasp of maths and a good reading ability when starting their secondary education. No pupil should be left behind.
Our year 7 catch-up premium for literacy and maths - £500 for every pupil needing extra help - will ensure that support is best targeted to those who most need it.

Despite a tough economic climate, this Coalition government is making sure all children get the help they need to succeed.
The catch-up premium will support every year 7 pupil who has not achieved at least level 4 - the expected level - at key stage 2 in either or both literacy or maths.
In 2012, 13% of pupils in all schools failed to gain a level 4 in reading and 16% failed to achieve this in maths (109,000 in total).
Schools will have freedom to decide how best to use the catch-up premium, but examples could include:
small-group tuition supported by new classroom materials and resources, which could take place at lunchtimes or after school
holiday support to deliver intensive catch-up over a short period
additional services and materials to add to those provided by the school, such as tutor services or proven computer-based learning or online support
ENDS
Notes to editors
Payments to local authorities will be made today (Thursday 31 January). Payments to academies and free schools will be made on 1 February.
Funding for the catch-up premium is a maximum of £500 per pupil. Almost half of the pupils who are matched with funding are also eligible for the pupil premium, which is focused on disadvantaged pupils.
Schools are free to determine how best to use the funding, but Ofsted inspectors will consider how schools are using the premium when inspecting schools. They will also monitor how effectively schools report to parents on whether or not students are meeting national expectations.
The Deputy Prime Minister announced the catch-up premium in September 2012.
DfE enquiries
Central newsdesk - for journalists 020 7783 8300
General enquiries - for members of the public 0370 000 2288
Published 31 January 2013