5 SCOTS take over training of Afghan Police in Helmand
The Argyll and Sutherland Highlanders, 5th Battalion The Royal Regiment of Scotland (5 SCOTS), have taken over responsibility for the Police Development Advisory Training Team (PDATT) in Helmand province.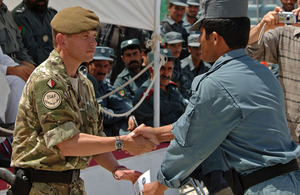 5 SCOTS have taken over this task from 1st Battalion The Mercian Regiment (Cheshire) [1 MERCIAN] as part of the transfer of authority from 4th Mechanized Brigade to 16 Air Assault Brigade as the lead formation of UK troops in Helmand.
The transfer from 1 MERCIAN to 5 SCOTS was marked by a simple exchange of plaques at the PDATT headquarters at the main operating base in Lashkar Gah.
The PDATT was introduced by 4th Mechanized Brigade to lead police development in the task force area of operations.
Over the last six months they have trained almost 1,500 policemen, including non-commissioned officers, and mentored police officers at both provincial and district level.
Members of the Afghan National Police (ANP) have been trained to deal with deadly improvised explosive devices and to interact with the local population in order to build trust and confidence in the developing Afghan National Security Forces.
Lieutenant Colonel Andy Hadfield, Commanding Officer of 1 MERCIAN, said:
This has been a challenging, sometimes frustrating, but satisfying six months. Building a new organisation always requires patience and commitment and the men and women of PDATT have demonstrated both.
Police development is now moving forward apace and we must keep the faith and continue to work to hand a safe and secure Afghanistan back to its people.
Lieutenant Colonel Adam Griffiths, Commanding Officer of 5 SCOTS, said:
5 SCOTS has trained hard for this deployment and is looking forward to the PDATT role and the focus on policing.
We take over an ongoing and vital task which is evolving and developing daily. I suspect the next six months will be defined by a period of continuity as well as consolidation as we strengthen the capability and develop the capacity of the ANP in Helmand.
Soldiers from 1 MERCIAN are due to return to the UK over the next few weeks and have a series of freedom parades and homecoming events planned in the North West in November 2010.
Published 5 October 2010