Press release
£5.4 million volunteering fund to benefit charities
Health and Social Care charities are to benefit from an injection of £5.4 million to support local health and care programmes, Care and Support Minister Norman Lamb announced today.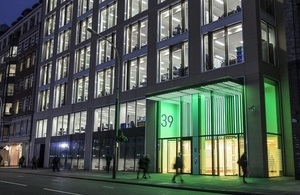 Through the Health and Social Care Volunteering Fund, 13 organisations bid for funding and were chosen for outstanding achievement.  They have been awarded money which will help to support projects in local communities.  Some of these organisations are:
StreetGames - supports young disadvantaged women who need support to develop a healthy and more active lifestyle.
Breast Cancer Care -supports people coming to the end of treatment for breast cancer and will encourage them to become physically active in a supportive environment.
**The Carers' Resource - **supports carers and those in need of care and support.  Working with and through volunteers it will prevent low level mental health issues and improve the health, wellbeing and quality of life for carers and those in need.
Signhealth - **will train and support Deaf sign-language volunteers **who will work to improve the quality of Deaf patients' experience of health and care services; and gain skills, knowledge and experience in the process.
Minister for Care Services, Norman Lamb said today:
"I'm really excited to announce such an innovative and diverse selection of projects, working with people to find new ways to give their time and volunteer to improve the lives of the most vulnerable people in society.  I'd like to encourage people to get involved and share their experiences to make these projects a success."
The fund will be divided between 13 organisations over three years after each charity was selected for having excellence in one of the following criteria:
Personalisation and Choice of Care and Support - projects that build and strengthen people's choice and control over their own care and support.
Delivering Better Health and Care Outcomes - projects that, through the support of volunteers, improve health and care resulting in fewer health inequalities and improvements in life expectancy for disadvantaged groups.
Improving Public Health - projects that improve public health through fewer inequalities in health, public health and social care - through the integration of volunteering initiatives in localities and communities.
Improving Health and Social Care - projects that focus on prevention, personalisation and partnerships to improve access for long-term health and care.
Notes to Editors:
**For media enquiries contact the Department of Health news desk on 020 7210 5221.
Further information on the scheme can be found on the Volunteering Fund website.
The money comes from the Department's Volunteering Fund
A full list of organisations awarded funding can be found here:
http://www.volunteeringfund.com/news/£5400000-support-strategic-health-and-social-care-projects-across-england
Published 9 November 2012