45 Commando build on the peace in Afghanistan
They are halfway through their tour in Afghanistan and 45 Commando Royal Marines are looking to ensure that the recent period of relative peace in Nad 'Ali (South) continues. Report by Ian Carr.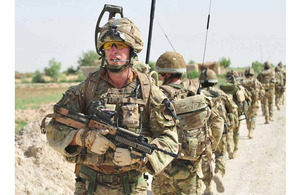 In the heat of the Nad 'Ali afternoon, with doves and mynah birds circling around the ancient mud walls of an old British fortress - now Forward Operating Base Shawqat, I find myself thinking of the old movie cliche, where the battle-soiled soldier turns to his commanding officer and says:
I don't like it sir, it's quiet, too damned quiet.
So far, as 45 Commando approach the halfway point of their tour, things have been relatively quiet, especially in comparison to the fire fights that were prevalent until only a few months ago. And Commanding Officer Lieutenant Colonel Oliver Lee does like it, and hopes it will stay like this till the end of the tour, and beyond.
He thanks his predecessors for that:
We had an excellent handover from 1st Battalion The Royal Irish Regiment. I can't praise them enough. They, and the battle groups before them, have done all the heavy lifting for us. It is our job to build on their achievements and provide a good springboard for HERRICK 15.
The Lieutenant Colonel though is not complacent. He is well aware that this relative peace is still a fragile one:
It will be clearer at the end of this month, when the wheat has been gathered, what threat we face. We will calibrate our response to deal with it.
But for the time being the peace seems to be enduring, and more importantly it is one that is increasingly being maintained by the ever-improving Afghan National Security Forces (ANSF) and by the people of Nad 'Ali (South) putting their faith in nascent district government processes:
We are holding our breath to see what the fighting season may bring, but this is a real opportunity for us to prepare and dig in," said Lt Col Lee.
We will be relentless in keeping the pressure up. Working alongside the ANSF our main effort is to prevent summer fighting this year. The longer the enemy is off the field, the more difficult it is going to be for them to rejoin the game.
I'm keen to point out that it's not just 45 Commando doing this. For example, the Royal Gurkha Rifles are doing a fantastic job mentoring the Police, and the Royal Scots Dragoon Guards are partnering the Afghan National Army [ANA].
To keep the pressure up, the Marines have mounted operations including Operation TOR KANJAK (BLACK THORN) where, partnering Afghan soldiers from the 3rd Brigade of 215 Corps, 45 Commando swept through an insurgent stronghold near Zaborabad, seizing a bomb-making factory.
Maybe the unusually harsh winter and last year's poor harvest have meant that the insurgents have had to concentrate more effort on this year's crops, so delaying the onset of the traditional fighting season.
Yet many seasoned troops are coming back from patrols reporting a quieter time than they'd expected, even though they are patrolling across fields where the crops have already been harvested:
And when you do come across insurgents, they melt quickly away; and if you track them down, they seem to come out of their hideouts looking dejected," said one Marine.
With the security around Nad 'Ali seemingly enduring, after 30 years of summer fighting there is now an increasing reluctance among the local inhabitants to allow the insurgents to turn back the clock.
Locals are demonstrating their willingness to embrace their own security forces, offering up intelligence about weapons caches and the whereabouts of insurgents.
According to Lt Col Lee, the success that the ANA is having in tracking down IED caches now outweighs the number cleared by coalition forces.
An example of this was the recent National Directorate of Security-led operation to the south of Shin Kalay, which resulted in a big arms find - including a PKM belt-fed automatic weapon, several IEDs and grenades, and various other items of the bomb-maker's trade.
All of which shows that the partnering and mentoring support that our Armed Forces have been investing in the ANSF is paying off. Major Nick Jepson, Lt Col Lee's Chief of Staff, believes it is and sees the partnering role developing over the tour:
Our role is very sophisticated now. We have done the 'clear', we are well advanced in the 'hold', and making significant progress in the 'build' phase. Heading up to 2014 we have to be clear about our priorities. The emphasis is changing from 'could I help' to 'should I help'.
Which means thinking about the most effective way to support the ANSF. Support is examined in the light of how it might move the ANSF closer to being able to look after themselves, and help them find their own solutions to their problems.
Take the simplest, but possibly most crucial of needs - water:
We want them to be independent, self-sufficient," said Major Jepson. "Our troops carry their own bottled water. If a corporal sees that his Afghan colleagues at a checkpoint don't have enough water, does he use his own supply chain to provide them with some?
It could be that the Afghan resupply has temporarily failed and just needs a kick-start, or it could be a bigger problem that needs sorting.
The same goes for fuel, or ammo, or winter wood for burning. The Afghans face the same threats as us, and the same problems, but their attitudes to them aren't the same.
We have, say, 30-40 days' supply, whereas they tend to live almost hand-to-mouth. They need to be thinking about their logistics now.
But Major Jepson sees the progress that has burgeoned from the security now in place. The number of ISAF-held locations is reducing and the transfer of authority is beginning to happen:
Schools are opening, markets are beginning to thrive, and the locals are showing that they are less fearful of intimidation," said Lt Col Lee.
It is our intention to use every lever we have to the max. That means meeting the people, cajoling them, mentoring them, building their confidence in themselves. After all this is not our popularity contest to win, it is a popularity contest for the people and their government.
And the Government does seem to be winning. The Afghan people respect strength, but they also know the value of strength that endures. The District Governor has shown himself to be resilient and someone who actively gets out among the people. That bolsters the communities' self-confidence.
The line management that he has appointed to administer the various government activities seems effective enough, and is delivering results:
Do they work exactly as we would like? No," commented Lt Col Lee, "but do they work in a way that is good for Nad 'Ali? Yes. And the locals are hungry for it.
It's good to see. The district plan is clearly driven by the District Governor. He is not ventriloquising the voice of someone else in the shadows.
He delegates, he chairs meetings effectively and he knows how to use all the strings available to him.
But this optimism is balanced by cautious reality. Nad 'Ali (South) has made a lot of progress in a short time, but it is not quite out of the woods yet:
We shouldn't be in any doubt that all of this is reversible, which is why the coming month is so important. To have a no-fighting season would be a good indicator that all our efforts, ours and the Afghans, are bearing fruit," said Lt Col Lee.
And for me, that, and to be able to take all of my guys home unhurt, would be the measure of a successful tour.
This article is taken from the July 2011 edition of Defence Focus - the magazine for everyone in Defence.
Published 8 July 2011