42 Commando build links with Helmand community
After arriving in Helmand last month, Royal Marines from 42 Commando are showing they have a firm handle on security in the Shahzad area and are building links with the local population through regular shuras.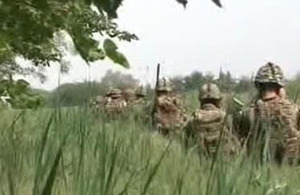 It has been five weeks since 42 Commando Royal Marines took over security in this part of Nad 'Ali (North) and inherited the improving security situation from 3rd Battalion The Parachute Regiment, who endured fierce fighting to help stabilise the area just a few months ago.
42 Commando are currently conducting daily patrols which are helping to provide reassurance for the local Afghan population and weekly shuras which are proving to be an important listening post in the communities.
Commenting on the first shura they held, Commanding Officer of 42 Commando Royal Marines, Lieutenant Colonel Ewen Murchison, said:
The shura is good. It's the first one I've done in Chah-e Anjir with the local DCC [District Community Council] members. These are the people we're trying to get to connect the Government of Afghanistan with the traditional elders. There were some good atmospherics and some positive feedback.
It's not only the Afghan people who seem to be benefiting from the shuras. The Royal Marines believe their efforts are being appreciated.
Warrant Officer Trev Trevarthen said:
They're really grateful. I think people think they just take from us all the time, but obviously we don't build anything they ask for. We'll go and look at it and make sure that it will benefit the community and at the end of it, when you see their faces, when they have a well in their community, it's great.
Although the progress being made in the area is palpable, there are concerns that once the poppy harvest is over in a few weeks, trouble may once again spread across the community.
Sergeant Rob Driscoll said:
I think after the poppy harvests, unfortunately, the young males around here will take arms and we'll see an increase in the kinetic activity, but it's been an ideal bedding in period and it can only work in our favour.
Published 6 May 2011