Press release
£400,000 grant announced for National Park repairs after winter storms and flooding
Defra announces funding for National Park repairs after winter storms and flooding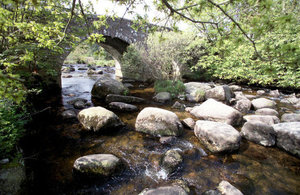 Five National Parks have today each received a share of £394,075 in funding from Defra for urgent repairs following the winter storms and flooding.
The recent storms caused damage to footpaths,bridleways, locks and bridges across five Parks in England. After National Parks applied for grants to carry out repairs, Defra has today announced the allocations for each Park which total nearly £400,000.
Environment Minister Lord de Mauley said:
Our National Parks are the jewels in the crown of our precious natural environment – this investment will ensure they remain so. Given each pound spent by National Parks on recreation provides £4 of wider benefit, it is essential to get our Parks back to the highest standards ahead of the busy tourism period.
In the Broads, the Mutford lock which facilitates over 1,000 boat passages a year will be restored after coastal flooding in December damaged electrical and hydraulic systems leaving staff to operate the lock manually. In Dartmoor numerous footpaths and bridleways will be repaired and drainage infrastructure will be restored.
This latest funding adds to the existing measures government have taken to rebuild Britain after the winter floods. Other initiatives include:
grants of up to £5,000 for homeowners and businesses flooded between 1 December and 31 March to make their properties more resilient to future floods
all affected businesses will get 100% business rate relief for three months and will also get an extra three months to pay the business taxes they owe to HMRC as they get back on their feet
a £10 million fund for farmers suffering water-logged fields to help restore it to farmable land as quickly as possible. This is now open for applications from farmers
grants for fishermen to replace storm damaged gear such as lobster creels and crab pots
Allocations to authorities
Broads - £82,000
Dartmoor - £150,000
Exmoor - £99,197
North York Moors - £32,230
Yorkshire Dales - £30,648
Published 22 April 2014