Press release
£40 million for social action and innovation to drive forward the giving agenda
£40 million will be available to promote social action and innovation by encouraging more social action, donations and legacy giving.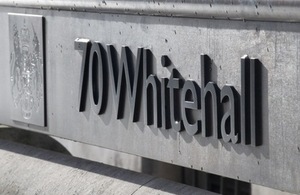 27 June 2012
A further £40 million will be available to promote social action and innovation, to back campaigns that will touch millions of people and mobilise them to tackle some of society's most difficult problems, Nick Hurd, the Minister for Civil Society, said today.
Following the Giving Summit, the government is setting out how it will continue to broaden the base of people who give their time and money to help others. It has published a document that reviews progress since the Giving White Paper and sets its priorities for the next 12 months. The new initiatives announced include moves to:
Encourage more grassroots social action with a further £40 million allocated over three years for social action. This fund will back ambitious social action campaigns that are looking to mobilise large numbers of people. Projects previously backed include campaigns to increase play and exercise opportunities for children in primary school; building mentor networks of alumni in state schools and encouraging people to support their local sports club in the Olympic year. The next wave of the fund will focus on grassroot campaigns that give people the opportunity to help the most vulnerable people in society.
*Encourage more legacy giving by making the UK a country where it is the social norm to leave a percentage to charity in a will. Legacy 10 has begun to win high profile supporters for its campaign to encourage people to leave 10% of their will. This could raise a further £1bn a year for good causes.
Make better connections between business and charity by putting in place better infrastructure to connect businesses and their employees with real community need. The Innovation in Giving Fund will scale up platforms that allow people with business skills to find the right opportunity to use them in the charity sector. The government is keen to make payroll-giving work more effectively - currently only 2.4% of the workforce give a small amount of their salary to charity each month.  The government is working with Zurich and Mid-Essex Hospital Trust to trial ways of encouraging people to sign up, and has also challenged payroll-giving administrators to review their ways of working and come forward with plans to make a the system much easier for donors, charities and employers to work with.
Encourage a new generation of givers: this year up to 30,000 National Citizen Service graduates are expected to give 750,000 hours of community service as part of the programme. In addition, the government is investing to make sure that all NCS graduates have the opportunity to continue with exciting social action opportunities in their communities. Furthermore, the government has asked Dame Julia Cleverdon to lead a consultation to map out a social action journey which will point young people from the ages of 10 - 20 to opportunities in their communities such as the Scouts, Cadets, NCS or the Duke of Edinburgh Awards.
The government will also bring forward legislation to implement the Gift Aid Small Donations Scheme from April 2013, an important reform that will allow charities to claim Gift Aid style top-up payments on small cash donations, where it is currently difficult to collect a Gift Aid declaration from the donor. 
Nick Hurd, Minister for Civil Society, said:
Britain is a generous country but we rely on a heroic minority who do most of the giving. Our priority is to build a culture where giving is seen as normal, easy and valued as part of everyday life.

If we can change people's attitudes so that it is normal for young people and employees to volunteer in their communities, routine for people to donate a small amount of their salary and standard to leave money to charitable causes in your will, we will be well on our way to becoming one of the most charitable countries in the world.
Notes to editors
1. Legacy income is currently worth almost £2 billion to UK charities. However, research shows that whilst many over 40s (35%) are 'happy to give a small amount to charity in their will' after taking care of friends and family, in reality only 7% actually do.  In contrast, in the United States the story is a little different, with 20% of the population making donations to charities in their wills. In the 2011 Budget, the Chancellor announced that estates where 10% is left to charity would be subject to a lower level of inheritance tax (36% rather than 40%).
2. The government is working with Mid-Essex Hospital Trust (five hospitals) to test ways of encouraging new starters into payroll-giving, including offering a new, employee-led workplace seminar for new starters talking about charitable giving in the workplace.
Published 27 June 2012