40 Commando's final operation in Sangin
After handing over authority for Sangin to their US counterparts last month, the Royal Marines of 40 Commando undertook one final mission to disrupt insurgent activity.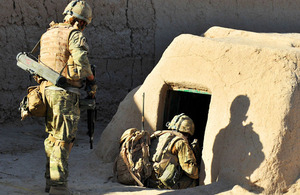 40 Commando have now arrived back in the UK after having spent six months operating in Sangin. They were the last UK unit to have responsibility for security in Sangin before handing over to US forces. See Related News to read more on this.
Their final mission, which began on 21 September 2010, was a massive vehicle operation deep into insurgent-influenced areas to the east of Sangin in the arid and inhospitable desert.
This operation, GHARTSE SURLANDAY, involved Bravo and Delta Companies working intricately with the Afghan National Army's 'Tiger Team' to form a Mobile Operations Group and conduct operations to interact with local nationals while concurrently disrupting insurgent activities.
Designed to interdict identified insurgent ingress routes into Sangin, the operation was part of the considerable effort made to protect Sangin from malign insurgent influence.
This operation, through working on the peripheries of the town, also helped US forces further establish themselves, provided a greater understanding of the population make-up of the area and increased the influence of the Government of the Islamic Republic of Afghanistan (GIRoA).
The operation also enabled Afghan and ISAF forces to develop an understanding of an area not routinely patrolled by ISAF.
The operation used Jackal, Mastiff and an assortment of other vehicles and extended deep into the eastern desert.
It was judged a complete success, and 40 Commando, yet again, proved to be a highly effective and professional force.
Captain Matt Shaw RM said:
The men were outstanding, as always, and it was great to see them successfully carry out the mission in a seamless manner and, most importantly, to all return unharmed afterwards.
This operation was the culmination of our six-month tour and it has made me extremely proud to lead such outstanding Marines.
Major Paul Lynch RM, Officer Commanding Delta Company, said:
We achieved our mission to disrupt the insurgents and gain a better understanding of the lives of the local nationals in the area so that efforts can be made to draw them into GIRoA and, where possible, assist them with regeneration.
Although the operation was in the desert it was controlled from Forward Operating Base Nolay by the company's second-in-command, Captain John Zaal, on exchange from the United States Marine Corps. He said:
Working with the British has been a once-in-a-lifetime experience, one which I will always remember.
Captain Marty Adams RM said:
It was excellent seeing the lads go out, achieve their mission, and all return unscathed on their last operation.
With Charlie Company already in the UK, the completion of this operation saw the remaining Royal Marines of 40 Commando arrive at Camp Bastion before returning home to Norton Manor Camp in Taunton with their Commanding Officer, Lieutenant Colonel Paul James RM.
Published 12 October 2010