News story
4 SCOTS educate Afghans in veterinary skills and personal safety
As part of the ongoing effort to improve the lives of people living in Helmand, British soldiers have held a shura to teach locals farming and veterinary skills, and educate them on the dangers of improvised explosive devices (IEDs).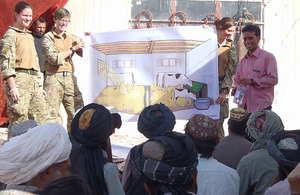 The shura (an Afghan meeting) was held at Checkpoint Yellow 14, in the Lashkar Gah district of Helmand province, where The Highlanders, 4th Battalion The Royal Regiment of Scotland (4 SCOTS), operate. Security for the shura was provided by members of the Afghan National Police who have been mentored and partnered by 4 SCOTS.
Many of the locals in the area are farmers and, while they are particularly adept at growing crops, they have had little training in how to care for and treat their animals.
The aim of the day was therefore to teach the farmers and community leaders about the need to properly look after their livestock. This was done through a series of lessons during which members of 4 SCOTS' Female Engagement Team explained the basics of procedures, such as worming, that could have an immediate and significant impact on the health of the animals.
Captain Hugh Wilson, D Company, 4 SCOTS, said:
This might sound like really simple and basic information, but to these people it is essential. Without their animals they cannot make a living and then they are unable to feed their families, and that makes them more vulnerable to the insurgents who will seek to capitalise on their misfortune. Everything we can do to help them help themselves is really important.
While the first part of the day was intended to help the locals with their animals, the second half was to teach them how to look after themselves. IEDs continue to be a threat to ISAF and Afghan forces, but also to the many innocent civilians who are often badly injured or killed by the indiscriminate devices.
The lessons on how to recognise IEDs in the ground and what actions to take to avoid harm were delivered by an Afghan National Army Sergeant, who had been trained by members of the British Counter-IED Task Force.
The audience was also told how to inform ISAF and Afghan forces if they think they have found an IED so that specialist disposal teams can be called in to remove the devices safely.
Sergeant Gary William Waugh said:
While the IEDs may be laid with the intention of harming us or other ISAF soldiers, sadly it is often locals and innocent children who are injured, maimed of even killed. We hope that by informing the elders about the risks and how to avoid them, they can pass this down to members of their family and community, and we can help reduce the risks.
The feedback from those who attended was that the shura was really useful, and more are now planned in other parts of the Combined Force Lashkar Gah area, and across Helmand, where British forces operate.
Published 14 June 2011