Press release
£4 billion to flow directly to SMEs through government construction projects and a new construction pipeline
The Cabinet Office is pioneering a new way of paying contractors that will see swifter payment for construction SMEs working on government projects.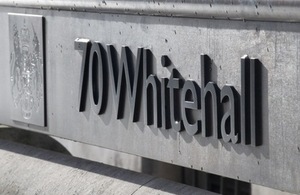 The Cabinet Office is pioneering a new way of paying contractors that will see construction SMEs working in government projects receiving payment in five days or less from the due date. The Cabinet Office has also published a new, improved forward pipeline of construction projects, which allows the industry to better plan ahead and compete for business.
Over the next three years, the new Project Bank Accounts system will get £4 billion worth of cash flowing faster through the construction industry, reducing risk for SMEs and resulting in yearly savings of at least £40 million from projects involved.
The move is set to revolutionise the way the construction supply chain operates, an industry in which around 99 per cent of businesses are SMEs. Currently, it is not unusual for SMEs to have to wait for up to 100 days to receive payment, which damages their cash flow and can harm their business. SMEs using the project will no longer have to wait for prime contractors to process their payment, instead they will receive it directly through a bank account specific to the project they are working on.
This year alone, over £500 million worth of projects have already been signed up to use Project Bank Accounts and this will rise to £4 billion by 2014. This rapid roll out will see the SME friendly approach used for almost 20 per cent of the spend in Government construction projects in three years' time.
The Funded Construction Pipeline includes over £36 billion of projects and programmes over 4 years to 2014/15 (excluding rail). It is the second to be published and includes more granular data on waste, health, road and other projects. It currently covers all major construction spending departments. Using this information, businesses will have more confidence over Government spending on construction and make more intelligent decisions over where they should invest and plan to compete.
The pipeline will now be refreshed every quarter and the next publication is due to include all central government departments.
The Cabinet Office is also publishing further updates to the Government Construction Strategy, which show progress in the Government's overall efforts to change the face of the construction industry in this country. Find the latest updates here.
Published 29 November 2011